By Luca Bertolini
Liverpool have scored lots of goals this season as a direct result of their high pressure defending tactics.  There are a number of benefits that can result from high pressure defending.  This article takes a look at just one of the aims of those tactics…forcing the opposition into long passes from their own half of the field.
Looking at Klopp's history as manager "no playmaker in the world can be as good as a good counter-pressing situation"; this means that a side by side passes move often requires slow build up play, and that, on the other side, the counter-pressing can create chances within seconds.
The organization behind it is the key, as Klopp's pressing isn't simply a closing down but a group of players all functioning as one to smother the opposition, as they look to launch a counter-attack.
The first interesting factor is that the team recognizes when they have enough players close to the ball, who are able to press the opponent with the ball and the area around it.
The players who are not involved in the pressing around the ball must ensure that a potential long kick from one of the opponents can be controlled and they must be able to press again a second receiver, if the first pressure doesn't work. They also have to be in a position to potentially win or intercept a wrong pass from the counter pressure, to recover the possession with the chance of organizing a counterattack of their own.
All the other players placed on the other side of the ball, recover immediately and quickly, either to join the pressing swarm or to recover goal side of the ball and to be placed in a position to be one of the covering or interceptor players; if these players are in possession, usually the moves are built up with pass combinations rather than with direct counterattack.
As we already found out in the first part, an important objective of the high pressure is to close the short pass lines and to force long ones toward the midfield area; the same happens when Liverpool's forwards are placed inside or near the opponent's penalty area.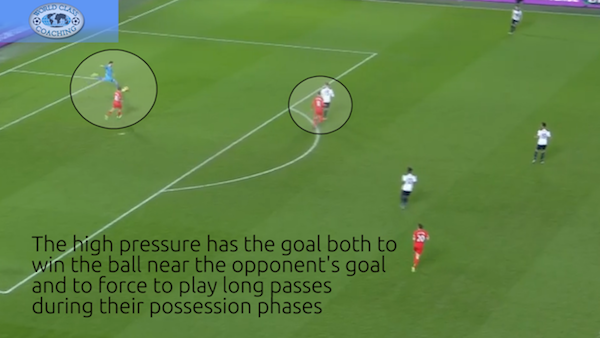 After the forced long pass toward the middle third, win the second times and the wandering balls.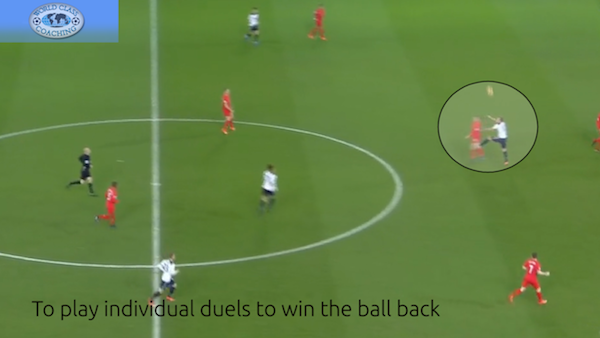 So forcing the opposition into long passes, gives you the opportunity to win back possession of the ball and start a quick counter attack.  There are many other benefits of high pressure defending too.  Klopp, Guardiola, Conte and more of the world's top coaches have figured this out.
This is article is just a short excerpt from the book Scoring More Goals Through High Pressure Defending by Luca Bertolini.