Discover How You Can Harness the Creativity, Rapid Pace and Technicality of Futsal to Fast Track Your Players' Development and Create Your Own Ronaldo or Messi

Wow, futsal skills training has arrived! From Futsal to Soccer, Everything you wanted to know about coaching Futsal…and how you can use it to develop better soccer players is your comprehensive guide to using futsal as a training tool. Discover how you can accelerate player improvements with futsal, a game that's been instrumental to creating many of the world's most gifted players

Plus get a FREE eBook "Futsal Tactics Becoming Soccer Tactics" that includes
11 Futsal drills and exercises that translate to soccer 
Dear Coach,
Players like Ronaldo, Messi and the legendary Pele weren't born superstars. They were developed into them through endless hours playing futsal. It was on small, densely packed pitches that these players learned how to dribble as though the ball was glued to their feet, to develop rapid decision making and to shoot with laser pointed accuracy. All of these players attribute their success to the tight skills they developed playing futsal from a young age. Now you can harness the benefits of this fast paced game for your own team.
From Futsal to Soccer, Everything you wanted to know about coaching Futsal…and how you can use it to develop better soccer players, provides a complete guide to using futsal in training. This two part book provides a comprehensive look at how the principles, tactics and techniques of futsal can be harnessed to make training more fun, motivating and effective, and enable you to create players with silky skills and the soccer brain to match.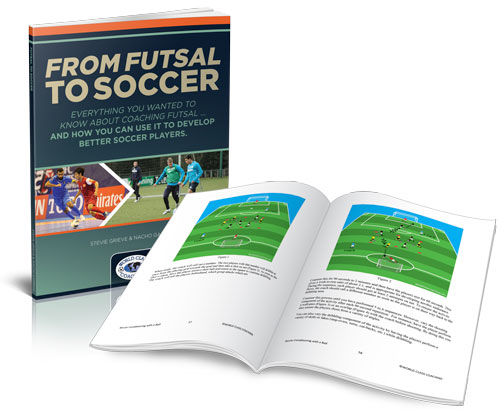 If your players are bored of running around cones, From Futsal to Soccer could be exactly the guide you've been looking for. With the pace of the modern game rising all the time, developing players with the technical skills and reactions of futsal players will also give your team the boost it needs to dominate games and make the opposition look as though they're standing still.

"Futsal was important in helping to develop my ball control, quick thinking, passing… also for dribbling, balance, concentration…Futsal was very, very important, no doubt." – Pele"
Rather than standing in lines and running around cones, it's through playing futsal that many elite level players, particularly in Brazil and Spain, developed their silky ball skills, smooth passing and lightning quick decision making. Players love small sided games, and the benefits are obvious. Players get more time on the ball, more touches and the intense nature of futsal puts them under more pressure to be perform. It's a wonder it's taken so long for coaches to realize the benefits of harnessing futsal in their training programs.
From Futsal to Soccer explains everything you need to know on how to use futsal as a development tool. This includes a guide on the skills and principles relevant to 11v11 games, how elite level teams demonstrate the spirit of futsal in how they play and training drills for creating development focused futsal practice sessions.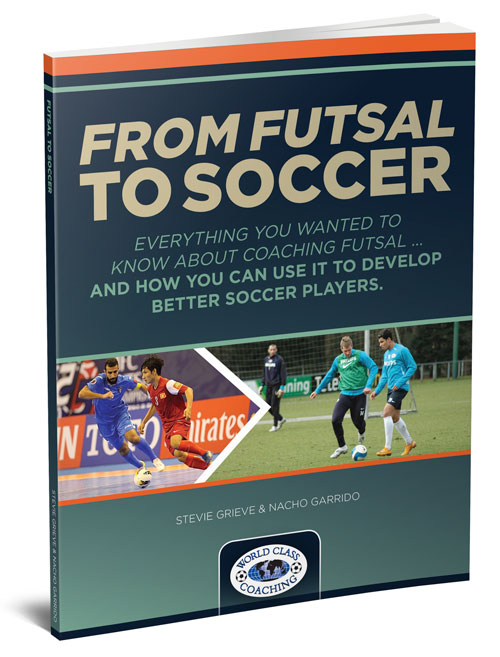 "Discover how to harness the fast pace and high technical level of futsal from two coaches with extensive experience in using it as a development tool"
What's covered in From Futsal to Soccer

Futsal into Football
Grieve outlines the benefits for players and provides real life examples and screenshots of how these are harnessed by players at an elite level. This includes moving the ball quickly, exploiting space, passing accuracy and much more. He then explains why futsal is such a valuable development tool, the traits of futsal players and how the principles of futsal are relevant to 11v11 games.
Grieve then looks at valuable futsal techniques, including the toe poke, protecting the ball with the sole and using the sole to open up space. This is backed up with examples of how Ronaldinho, Ronaldo and Neymar use these skills to devastating effect in real games.
In the third part, Grieve assesses how Manchester City, Barcelona, Brazil and Ajax all demonstrate the benefits of futsal and how it could have influenced aspects of their play.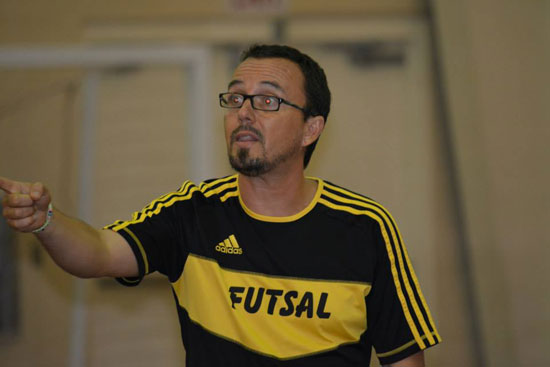 Nacho Garrido conducts another Futsal coaching session
Garrido provides his own insights on how futsal can improve team performance. This includes improved player reaction times, decision making, patience and playing with speed. It's no coincidence that these are qualities Spanish players have in abundance, having grown up playing futsal from a young age.
Garrido then explains the differences between futsal and soccer, in defense and attack. Aspects include support, rotation, temporization, change of rhythm and diagonal counter attacking. Actual game screenshots are provided to demonstrate how the principles of futsal are applicable to elite level soccer. Garrido also analyzes how the improvements in passing, control and dribbling gained from futsal transfer into real games.
After discussing the tactics and systems of futsal formations, Garrido then provides a series of training sessions for putting all of From Futsal to Soccer's theory into practice.

What you will gain from From Futsal to Soccer

Today's forward thinking coaches are abandoning drills performed in lines or running around cones. Instead, they are switching to training methods which develop players in multiple areas in every session. For this reason, futsal should be in every coach's training repertoire.
Its complex tactics, speed of play and demands on players to shoot and pass accurately mean that you can expect to gain big improvements in multiple areas quickly. However, knowing how to implement futsal as a cohesive part of training isn't immediately obvious. This is why From Futsal to Soccer is such a valuable training resource – it explains exactly how to do it.
From From Futsal to Soccer, Everything you wanted to know about coaching Futsal…and how you can use it to develop better soccer players you will gain:
A complete guide on using futsal as a player development tool
How the qualities players gain from futsal can improve your team
Knowledge on how futsal tactics are used at an elite level
An understanding of what the principles of futsal are and how they apply to 11v11 games
How elite teams like Barcelona, Real Madrid, Manchester City and Brazil practice the ethos of futsal in the way that they play
Futsal techniques that can improve your team's play
The different attacking systems and formations for futsal
A series of training drills for putting theory into practice
Your players will become more accustomed to playing in tight areas, leading to better ball control, faster decision making and greater accuracy
Playing intense small sided games will accelerate the gains of every session
Your players will learn to play at a faster pace and love having the opportunity to play rather than waste time standing in lines or performing the same drill over and over again
If you've ever wished you could develop a team with the pace and smooth passing style of Barcelona, Spain or Brazil, From Futsal to Soccer could be the blueprint you're looking for. It explains exactly how you can harness the rapid skills development of futsal to create a team that's able to think on its feet, pass smoothly and attack with a high tempo.
It's no mystery where the silky skills of players like Ronaldo and Messi come from. They don't come as a preordained gift but from hours and hours playing futsal soccer in the streets. If you want to create elite players of your own, From Futsal to Soccer is a book that can help you do it.

And get this FREE eBook with your purchase

There are many soccer tactics and techniques that have their origin from the game of Futsal.  Futsal Tactics Becoming Soccer Tactics takes a look at how tactics used by teams like Barcelona, Man City, Real Madrid and others originated from a Futsal background.
But it's not just tactics that futsal and soccer have in common.  Many of the world's top players grew up playing futsal and swear it was instrumental in their success. Lionel Messi is a good example of how futsal skills can be used in the False 9 position.  So we have also included 11 futsal related drills that translate well into the game of soccer and can be used on the training field as part of your regular training sessions.
And it's free with your order of From From Futsal to Soccer.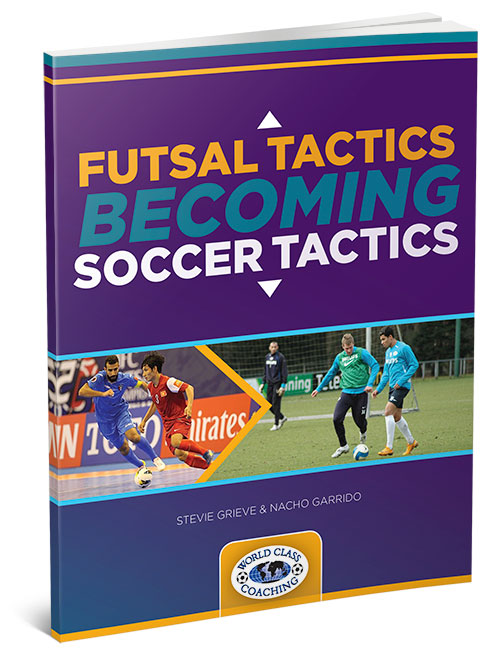 100% 'no quibbles' 6 Month Money Back Guarantee
WORLD CLASS COACHING is recognized globally for the quality of its soccer coaching resources, which are used by over 40,000 soccer coaches from around the world. We wouldn't be offering you From Futsal to Soccer unless it achieves our exceptionally high standards. However, if you are not 100% satisfied with the quality of From Futsal to Soccer after six months then please contact us for a no quibbles refund.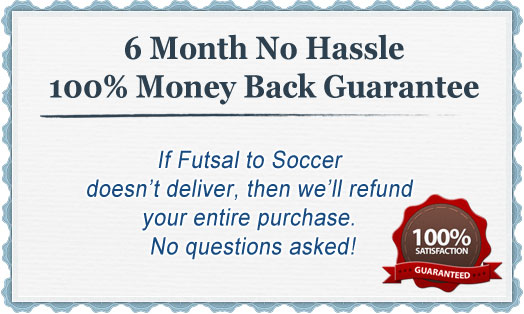 "In Portugal, all we played growing up was Futsal. The smaller court helped my footwork skills, the nature of the game made me feel so free when I played. If it wasn't for Futsal, I would definitely not be the player I am today." – Cristiano Ronaldo"

Making training sessions more invigorating and enjoyable for players, while technically beneficial, is a constant challenge. No player enjoys waiting in lines to perform one skill in isolation, while the benefits of this training style are now being questioned. Providing futsal style training, however, can offer a wealth of benefits – and no disadvantages.
From Futsal to Soccer provides you with a complete guide on how to harness the fast pace, intensity and intelligence developed in street soccer into your training sessions. As demonstrated by elite level players like Messi, Ronaldo and Pele, futsal can be an instrumental tool in developing highly skilled, quick thinking and smooth passing players.
So if you're struggling to gain improvements in training and enthusiasm levels are low, harness the power and passion of futsal in training with the comprehensive From Futsal to Soccer development guide.
Best Wishes,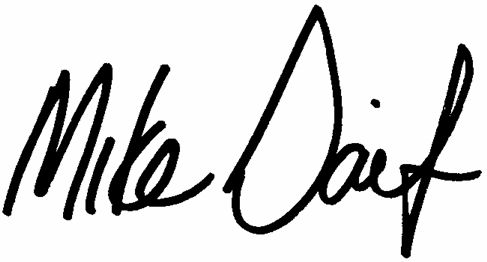 Mike Saif
President
P.S. From Futsal to Soccer provides a comprehensive guide on how to harness the rapid pace, complex tactics and advanced technical skills of futsal as a player development tool. It contains a wealth of information on the principles, tactics and mindset developed playing futsal can be harnessed in 11v11 games, and how this is done successfully by many elite sides.
P.P.S If you are not 100% satisfied with the quality of the soccer coaching resources in From Futsal to Soccer after six months then we will refund your purchase in full, no questions asked.