Want to play the 4-3-3? This is the Perfect Guide for Coaches on this Dynamic Formation
Wow, all coaches will love this! Coaching the 4-3-3 presents a structured way of getting to grips with the 4-3-3. It covers the formation's history, how to play it and a complete set of progressive drills to include in your own training sessions. This makes it the ultimate 4-3-3 guide.
​

Dear Coach,
Every coach dreams of having a team able to play free flowing soccer like Cruyff's Barcelona, Wenger's Arsenal or Ferguson's Manchester United. What these teams all have in common is their ability to play the 4-3-3 to devastating effect. It's a highly aggressive and dynamic formation. But also one of the toughest to play well. This is why it's essential to have a structured way of learning how to play it.
Coaching the 4-3-3 covers everything an upcoming coach needs to know on how it works, how to play it and how to embed it in your team This includes how to organize a shifting backline, how to orchestrate slick triangular passing in the midfield and how to swamp the final third and score more goals.
If you want to play the 4-3-3 effectively, it's essential to have a solid understanding of the fundamentals. Coaching the 4-3-3 can give this to you and provide a fast track to playing it with the same attacking dominance as the great 4-3-3 sides.
"You can't run before you can walk. And no upcoming coach should playing the 4-3-3 before they've read this guide"
Building your coaching knowledge is like building a tower. You can't reach the heights of elite level play unless you have solid foundations on which to develop.
The 4-3-3 continues to be one of the most complicated formation to play well in modern soccer. There are so many parts that have to slot together for you to play it effectively and harness its advantages. It's truly a whole different ball game to playing the long ball.
Coaching the 4-3-3 was developed for this exact reason. It is a foundation forming guide. After you read it and practice its progressive drills, both you and your players will immediately have a strong grip on its fundamentals. You then have a solid platform on which to take your 4-3-3 side to a more advanced level.
"Guidance in the fundamentals of the 4-3-3 by a coach
who's an expert in building teams"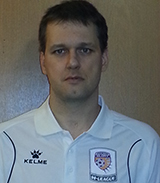 Keith ScarlettAuthor/Coach
With a coaching career that spans more than two decades, three continents and every level of the game, Keith Scarlett has been involved with the game since he was 12 years old. A tireless recruiter with a keen eye for player evaluation and development, his tactical acumen has helped him garner success at almost every stop.
Keith played collegiately and post-collegiately for the San Antonio Pumas and the Roanoke Wrath in the United States. He holds an Advanced National Diploma from the NSCAA, the "A" License from both the USSF and the Asian Football Confederation.
Keith has coached at all levels of the game. Most notably, a decade at the university level in the United States and time on both the men's and women's side professionally; as an assistant with the Throttur FC men and in the same capacity with the Perth Glory women.
What's covered in

Coaching the 4-3-3
Coaching the 4-3-3 is divided into three sections that each go into deep detail on how to play this aggressive and fluid formation.
Section one looks at the history of the 4-3-3 and other formations. The includes the 4-3-2-1 'Christmas Tree' of Tottenham Hotspur, the 3-4-3 of Benitez's Champions League winning Liverpool, Italy's 2-3-5 and the 4-3-3 of Ajax, Manchester United and Barcelona.
The second section then explains how to coach the 4-3-3. This includes an examination of the teams that play it today, including Southampton, Arsenal and Portugal, how it's played, team setup, role of the sweeper and its strengths and weaknesses.
The third section of Coaching the 4-3-3 is focused on drills that put the theory into practice. All of the drills are progressive, so they build off each other to create challenging sessions. All the key skills needed to play the 4-3-3 are covered, including possession, dribbling, timing runs into the box, close quarter passing, playing with width and, of course, scoring goals.
Author, Keith Scarlett giving a pre-game talk
What you will gain from

Coaching the 4-3-3
Coaching the 4-3-3 is the perfect foundation building guide to the 4-3-3. It covers everything you need to know in a structured, easy to follow way. It's also loaded with progressive drills for creating challenging sessions that develop all the key skills in your side.
From Coaching the 4-3-3 you will gain:
A deeper understanding of many of the game's key formations, including the 2-3-5, 4-2-4, 4-3-2-1, 3-4-3 and, of course, the 4-3-3
Examples of how many elite teams play their chosen formation to perfection
How top sides, like Southampton, Arsenal and Barcelona play the 4-3-3
A complete guide to team setup, the formations strengths and risks
How to overcome key challenges, such as if opponents hold a defensive line
How to switch play, how to use flank players, getting the ball to the forwards and other keys to success
A complete set of progressive drills for improving possession, timing runs, flooding the final third and playing the 4-3-3 to devastating effect
Every castle relies on strong foundations. Coaching the 4-3-3 gives you the building blocks on which to build a fortress and conquer opponents with arguably the game's most aggressive and flexible formation.
100% 'no quibbles' 6-Month Money Back Guarantee
WORLD CLASS COACHING is recognized globally for the quality of its soccer coaching resources, which are used by over 40,000 soccer coaches from around the world. We wouldn't be offering Coaching the 4-3-3 unless it achieves our exceptionally high standards. However, if you are not 100% satisfied with the quality of the Coaching the 4-3-3 after six months of implementing its small sided games and exercises then please contact us for a no quibbles refund.
"The perfect building blocks for a 4-3-3 fortress"
The 4-3-3 is the natural step up from rigid formations, like the 4-4-2. It gives you far greater flexibility, creativity and attacking dominance. But training your team to play it is easier said than done.
suddenly play it properly. It has to be developed in small step - the creative freedom it gives players is the formation's strength and it's weakness. This is why it's essential to start your training with Coaching the 4-3-3.
Coaching the 4-3-3 gives you a structured way of developing your team's understanding of the formation. It explains exactly what players need to do and why, and gives you a complete set of drills for embedding the building blocks and creating a highly effective 4-3-3 playing side.
Best Wishes
Mike Saif
President
P.S. Coaching the 4-3-3 is a foundation guide on how to play one of the most aggressive and dynamic formations in the modern game. It explains the formation's history, how to play it and how to train your team in all its key skills.
P.P.S. If you are not 100% satisfied with the quality of the soccer coaching resources in Coaching the 4-3-3 within six months then we will refund your purchase in full, no questions asked.
Get Your Copy Of
Coaching the 4-3-3
eBook for as low as - Only $16.50