Are You Ready to Step Up and Gain
'Elite' Level Coaching in the 4-3-3?
Calling all advanced coaches who love to attack!

Coaching the 4-3-3 Advanced Tactics

takes a deep dive into the mechanics, tactics and techniques needed to play this aggressive formation to perfection. This is a detailed and in-depth read, for advanced coaches and players ready to step up to an elite level.
Dear Coach,
​The 4-3-3 continues to be one of the most fluid and attacking formations in the game. But there's a BIG difference between teams that play it competently and those that truly dominate with its triangular midfield, shifting backline and overload in attack.
If you want to go from competent to advanced, you need deep, detailed tactical training. You need more than drills. You need a comprehensive master plan on how to use the 4-3-3 to control every area of the pitch.
If you think you and your players are ready, there are few guides that go into as much depth on how to play the 4-3-3 as Coaching the 4-3-3 Advanced Tactics. This near 50,000 word guide examines its tactical foundation, how to play it with technical speed and philosophies of attacking, as well as how to adopt the 'Barcelona Method' with an extensive collection of exercises for putting the theory into practice.
Coaching the 4-3-3 Advanced Tactics could be the most advanced guide to the 4-3-3 ever produced. Making it ideal for experienced coaches with technically gifted players that can handle it.
"Discover how to bring the decades old formation
up to date for the modern game"
The 4-3-3 was first developed in the late 1960s by the Dutch Coach Rinus Michels. England had just won the World Cup playing a regimented 4-4-2. Michels knew that if England were to be defeated, a more fluid style of play was urgently needed.
Michels dedicated three years of his life to analyzing the 4-4-2 and devising a way to beat it. The result was the formation that formed the basis for Dutch Total Football, the 4-3-3. This formation made players more mobile and free in movement, and was the secret to the rise of Dutch clubs and the Dutch national side to joining the European elite in the 70s and 80s.
Over four decades have since passed, but the 4-3-3 continues to be one of the best formations for teams that love to play attacking soccer. In Coaching the 4-3-3 Advanced Tactics you gain a blueprint on how to join them and being the spirit and style of Total Football to your pitch.
"An in-depth look at the 4-3-3 compiled by a coach
with extensive 4-3-3 experience"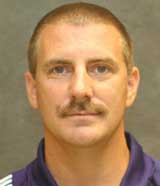 Rob PodeynAuthor/Coach
Robert Podeyn's goalkeeping and coaching career spans over twenty-eight years. His playing career started in New York, playing for Kings Park and then Cow Harbor. He then moved onto college soccer, helping LIU-C.W. to advance to the NCAA Division II Quarterfinals in 1987, earning All-Conference and Honorable Mention All-American honors in the process.
The next step in Podeyn's career was to Long Island Stars, in the now defunct American Soccer League, where he set a professional record of 973 shutout minutes, earning team and league MVP honors in the process.
In 1990 Podeyn then began his coaching career back at Kings Park, coaching the junior and high school squads. Podeyn's next move was to Florida, coaching both the boys and girls youth teams at Osceola High School and helping them to gain much improved winning records. In 2003 Podeyn coached the Williams Woods university, building them into one of the top offensive teams, with 183 goals in 57 games.
Podeyn's reputation for rebuilding and re-energizing teams was further cemented at Northwood University, whom he took from the brink of extinction to a record setting season in which they nearly entered the NAIA Top 25. Podeyn now coaches at South Western University Bolivar, Missouri, competing in the toughest women's conference in the country (MIAA).
Podeyn has earned coaching certifications from the USSF, NSCAA and KNVB, all of which were earned with distinction. A keen student of the game, Podeyn has also traveled abroad to learn from some of the best foreign goalkeeping coaches, this includes completing English FA coaching courses and earning the UEFA coaching certificate. In Brazil he participated in sessions with CBF and CAM professional clubs.
Podeyn is also the author of these best selling books - Three Dimensional Training, Coaching the Dutch 4-3-3, Coaching the Complete Goalkeeper and The Triangle Midfield
What's covered in

Coaching the 4-3-3 Advanced Tactics
Coaching the 4-3-3 Advanced Tactics is divided into three sections that each go into deep detail on how to play this aggressive and fluid formation.
Section one explains the importance of good technical foundations. This includes a guide on how to run technical training with the ethos that 'practice makes permanent'. Drills include technical passing, pattern passing, positional training for technical speed, translational speed and team speed.
The second section looks at the 'Barcelona Method' and how the 4-3-3 became deeply ingrained in the legendary Catalan team under Johan Cruyff. This section reinforces the need for a strong technical foundation, how to harness small sided games called 'rondos' played in tight space to force players to think and play with urgency and pace.
The third section focuses on drills for embedding the technique and mindset your players need to play the 4-3-3 effectively. This includes drills for attacking runs, improving ball speed to the forwards, Italian Shadow Play, possession passing and 11 v 8 games with 2 targets.
Author, Rob Podeyn coaching during a game
What you will gain from

Coaching the 4-3-3 Advanced Tactics
The 4-3-3 continues to be one of the most popular formations in modern soccer. However, to play it effectively both the coach and the players need a deep understanding of its tactics and the committment to technical precision that's needed.
The knowledge you'll gain from this near 50,000 word guide will give you an exceptionally deep understanding of the formation. The advanced drills will also embed all the technical skills your players need to play it well.
From Coaching the 4-3-3 Advanced Tactics you will gain:
An exceptionally deep understanding of how to play the 4-3-3
How to harness it in the model of Barcelona
How a team able to play a very attack minded, possession orientated and dominating style of play can control and win the game
Players that want the ball at all times
A team that dominates possession and aims to score every attack
Training that emphasizes technique and technical speed
Greater technical accuracy and technical quality
Players that are conditioned to play with pace and accuracy
The ability to get 6 or 7 coordinated attackers in the final third
The ultimate benefit of Coaching the 4-3-3 Advanced Tactics is that it can provide you with a team that's more knowledgeable, more focused and better equipped technically to play the formation. This will naturally translate into greater confidence, more goals and wins.
100% 'no quibbles' 6-Month Money Back Guarantee
WORLD CLASS COACHING is recognized globally for the quality of its soccer coaching resources, which are used by over 40,000 soccer coaches from around the world. We wouldn't be offering Coaching the 4-3-3 Advanced Tactics unless it achieves our exceptionally high standards. However, if you are not 100% satisfied with the quality of the Coaching the 4-3-3 Advanced Tactics after six months of implementing its small sided games and exercises then please contact us for a no quibbles refund.
"Gain priceless insights that can take your knowledge and team's performance to the next level when playing the 4-3-3"
If you're standing still, you're not moving forwards. If you want to advance your coaching knowledge and your team's performance you have to look for advanced guides that go beyond average.
As its title suggests, Coaching the 4-3-3 Advanced Tactics is such a resource. It goes deeper detail than any other guide we've produced on the 4-3-3 and how to harness it to devastating effect in all areas of the pitch.
After embedding its insights into your coaching brain and players' feet, you will have a team that pursues technical perfection, moves in a fluid yet coordinated attacking wave up the pitch and gives you confidence that every ball is a scoring opportunity.
So if you feel your coaching knowledge and team are ready to take the next step up, Coaching the 4-3-3 Advanced Tactics is a powerful guide that can get you there.
Best Wishes
Mike Saif
President
P.S. Coaching the 4-3-3 Advanced Tactics is a deep and detailed guide on how to play the one of the game's most fluid and aggressive formations. It explains the tactics, mindset and technique needed to play it effectively and is packed with advanced drills for putting theory into practice.
P.P.S. If you are not 100% satisfied with the quality of the soccer coaching resources in Coaching the 4-3-3 Advanced Tactics within six months then we will refund your purchase in full, no questions asked.
Get Your Copy Of
Coaching the 4-3-3 Advanced Tactics
eBook for as low as - Only $16.50