How to Overcome the #1 Problem in Youth Soccer and Create Teams Able to Keep their Shape and Take Advantage of the Full Pitch to create More Scoring Opportunities

Coaches can rejoice – an answer to the biggest problem in youth soccer has arrived! Coaching Team Shape in the 3-3-1 Formation provides a complete guide on how to improve spatial awareness, player movement and to give players the vital discipline to keep the team's shape. No longer will the entire team charge for the ball, leaving vast gaps for the opposition to exploit. Instead, you'll have a team that stays in position and uses space to create more goal scoring opportunities.

Dear Coach,
Are you fed up of seeing your players charge headlong for the ball? Do they lack awareness of what's going on in the space around them, and keep creating huge gaps in your defense? This is a frustration shared by youth coaches across the country. Giving enthusiastic young players the discipline to stay in position can be a challenge. They naturally want to get a kick of ball at every opportunity. Thankfully, help has arrived with Sean Pearson's new grid based development system.
Coaching Team Shape in the 3-3-1 provides a complete coaching guide for training players at all levels to improve their spatial awareness, communication and movement off the ball. Harnessing grids and specially designed drills, the book explains exactly how to improve your players' awareness of how to make the best use of the space around them and to stay in position so you can keep the ball moving and use the whole of the pitch to your advantage.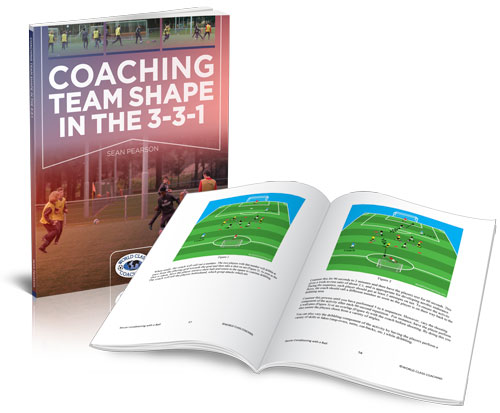 This is part of our "Quick Guide" series of eBooks, designed to be short and sweet and an easy read with each eBook  focusing on a specific topic.  From working through the drills in this book and explaining the theory behind them, you'll be able to develop a team that's able to find space, perform smooth passing moves and create more goal scoring chances through keeping its shape. Whether you coach at youth or a more senior level, Coaching Team Shape in the 3-3-1 offers the blueprint to stopping your players from charging, head down, for the ball but instead playing with intelligence and discipline so you can dominate sides still struggling to rein in over enthusiastic players.

"This book's grid based approach offers a wealth of benefits for maintaining team shape whatever formation you play"
Most youth coaches focus on technique. But the problem is that without discipline and spatial awareness, having good ball skills is wasted because your players aren't getting in the right positions but are instead squashed around the ball. Coaching Team Shape in the 3-3-1 addresses this problem, recognized as one of the biggest challenges in youth soccer.
All of the exercises are performed in grids. This offers a number of benefits – players stay in the positions they play in an actual game, it stops them from wandering out of position and the team is able to maintain its shape.
You might think that playing in grids limits the types of drills and skills you can practice. But Coaching Team Shape in the 3-3-1 actually features a wide variety of exercises, from simple connecting patterns through to advanced tactical drills. In each case, the drills have been carefully designed to help players understand why they perform specific movements in different areas of the pitch. At the same time, there's plenty of scope for adapting the drills to fit in with your own ethos on how you want your team to play and win.
"A book born from a lifelong passion for coaching and developing teams that work for each other in possession and when off the ball"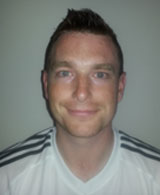 Coaching Team Shape in the 3-3-1 Formation is born from its author Sean Pearson's lifelong passion for coaching. He grew up watching his father's vast collection of Liverpool games from the 1980s onwards, a period during which they were England's most dominate team. From watching and analyzing their style of play, Pearson developed an appreciation for the benefits of smoothing passing and playing as a team.
Pearson first started coaching at the young age of 16, helping to train his local team. This continued while at Oxford Brookes University, where he helped to train the university side. Upon graduating, Pearson continued to pursue his passion for coaching at Sheffield United's Academy, coaching junior sides up to the age of 14. During his time at Sheffield United, Pearson was able to observe professional level coaching firsthand and gain his UEFA B License.
Pearson then decided to take his coaching education abroad, moving to the USA in 2009. It was here that Pearson crystallized his specialty in developing systems of play, which could be used by coaches at every level. He also further developed his philosophy in sharing possession and make it easier for each other with lots of movement off the ball, combination plays and penetrating runs into the box.
While in America, Pearson also expanded his coaching qualifications, gaining an NSCAA Premier Diploma and Director of Coaching Diploma. He currently coaches the U20 Men's team and U15 Boys at the FC Philadelphia, where he is also responsible for staff development.
What's covered in Coaching Team Shape in the 3-3-1

Coaching Team Shape in the 3-3-1 provides a grid based training program for drilling players to keep in space and spread across the pitch. In each drill a player is assigned an area of the grid to stay in. This works best when the position in the grid mirrors the position they play in an actual game. Some of the topics covered include:
Fundamental Principles
The book's first chapter defines the key principles its coaching system address, applicable to every formation. This includes spatial awareness, communication, movement off the ball, quick decision making and receiving passes with the back foot for quick passing and moving.
Formations
While the book's title suggest that it's focused on 8 sided games, Pearson's coaching philosophy is just as valuable for any 11v11 formation. He explains how practicing with a grid still gives you the flexibility to change your system according to your team's strengths and the opposition's style of play.
Basics for all formations
Playing with grids limits players to practicing in areas of the pitch where they need to be. It also ensures your team will maintain its shape in real game situations. In this chapter, Pearson also analyzes the strengths and weaknesses of each formation for which his drills are best suited.
Shape when in possession
How to use grids to train your team to create shapes of support, such as triangles and diamonds. This chapter then explains how to run drills that develop your team's ability to link wide backs with wide midfielders to create space for getting the ball to the front line.
Adding Pressure
Adding cones for passive pressure helps to increase the challenge for players and simulate real game situations. The intensity can then be raised by replacing the cones with two or three players. Pearson then explains how to switch to active pressure by allowing tackling and releasing any restrictions on the opposition players. The drills can be further progressed through increasing the size of the grid for more movement.
Recycling the play
Every coach knows that repetition is the key to success. Pearson explains the need to keep repeating advanced movements so players understand where they should be and how each movement is completed. This is applicable to drills which train players to continuing attacking into space, reintroducing pressure after the ball is lost, combination play and overlapping runs.

What you will gain from Coaching Team Shape in the 3-3-1 Formation

If you're starting to feel like the only way to keep your players in position is to chain them down, Coaching Team Shape in the 3-3-1 has the answers you need. With its grid based approach, it will educate your players where they need to be, in both offense and defense, to maintain the team's shape and make better use of space.
From Coaching Team Shape in the 3-3-1 you will gain:
Players that stay in position, instead of charging to join the huddle around the ball
Greater spatial awareness of space, opposition players and passing opportunities
Better communication that helps keep possession through getting players in better positions
Improved movement off the ball to create angles and passing options
Your team will know how to spread out in possession and where to move the ball
How to use different scenarios to attack and create scoring opportunities
Make full use of the whole pitch
Movement patterns that will deftly switch the ball past teams without the same discipline
Teach players in how to keep the team's shape along with the technical improvements needed to do it successful
Keeping players in position is, indeed, one of the biggest headaches for youth coaches. But players at every level can also benefit from better spatial awareness, discipline and improved movement off the ball. Coaching Team Shape in the 3-3-1 provides you with a clear and progressive plan on how it can be done so you can create teams that use the full pitch to your advantage.

100% 'no quibbles' 6 Month Money Back Guarantee
WORLD CLASS COACHING is recognized globally for the quality of its soccer coaching resources, which are used by over 40,000 soccer coaches from around the world. We wouldn't be offering you Coaching Team Shape in the 3-3-1 unless it achieves our exceptionally high standards. However, if you are not 100% satisfied with the quality of Coaching Team Shape in the 3-3-1 after six months then please contact us for a no quibbles refund.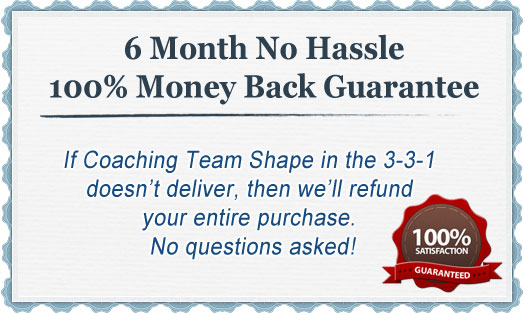 "If your players keeping getting out of position and creating gaps, this shows you how to give them the spatial awareness to keep team shape and get those gaps plugged"

Time and again, it's been proven that a smooth passing disciplined team will beat a gifted yet disorganized side nearly every time. But coaching players to stay in position and calm their desire to charge for the ball is a challenge at all levels, and particularly in youth soccer.
Coaching Team Shape in the 3-3-1 is a specially designed coaching guide for training players to keep the team's shape. Through using grid based training to address the fundamentals of spatial awareness, communication and movement off the ball, it enables you to give players the mindset and the technique needed to stay in position and use space to your advantage.
With drills that help to improve playing the ball to wideplayers, combination plays and overlapping runs, Coaching Team Shape in the 3-3-1 also drills your players in how to create goal scoring opportunities. Making it a well-rounded training system that will give your team both discipline to keep its shape and the creativity to score more goals.
Best Wishes,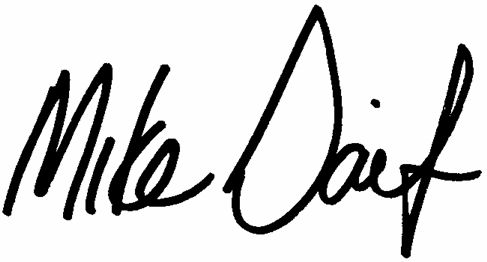 Mike Saif
President
P.S. Coaching Team Shape in the 3-3-1 provides a development guide to overcoming the problem of players moving out of position and breaking the team's shape. Using grids, it provides drills focused on developing the fundamental principles that improve spatial awareness, passing moves and will train your players to get in the best positions.
P.P.S If you are not 100% satisfied with the quality of the soccer coaching resources in Coaching Team Shape in the 3-3-1 after six months then we will refund your purchase in full, no questions asked.