Get inside the mind's of two of soccer's greatest tactical wizards in this special book which analyses the 4-4-2 formation of Alex Ferguson's Manchester United Vs. the 4-3-3 of Jose Mourinho's Chelsea

If you've ever wanted to get a glimpse inside the minds of two of soccer's greatest tactical geniuses, now you can in this special book!  In 4-4-2 vs 4-3-3 you will discover the devastating tactics and strategies used by Jose Mourinho's Chelsea on their way to two English Premier League title runs and why Manchester United, to this day, continue to be the dominant force in the English Premier League.

Dear Coach,
Who is the greatest manager? Alex Ferguson, with his 12 league titles, 9 cups and 2 Champions League Trophies during an unsurpassed two decades at Manchester United, or Jose Mourinho, who won 2 consecutive league titles, 3 cups and is one of only a few managers to prevent Manchester United from winning the title. This is an argument too contentious for any book to answer. But what this special book, 4-4-2 vs 4-3-3, does do is to analysis in-depth the differing formations, strategies and tactics used by the two managers.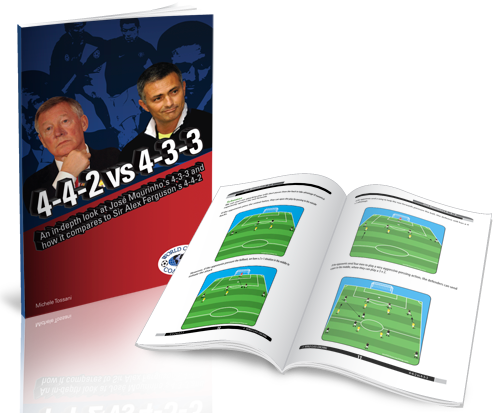 Through assessing the key players, the way in which the team adapted to new signings and how both managers adjusted their team's play to get the results they needed, 4-4-2 vs 4-3-3 enables you to get inside the mind of these two great Premier League managers. In addition, you'll discover valuable insights into how the 4-4-2 can be used to nullify and exploit the weaknesses of the 4-3-3 formation, and vice versa. This can give you that extra tactical edge the next time you're preparing to play against a team that plays either of these formations.
This book is perfect for any coach wishing to understand exactly how Mourinho's Chelsea and Ferguson's Manchester United were able to dominate opponents and how you can apply their philosophies and tactics to improve your own team's performance.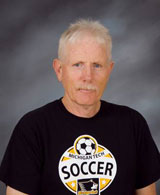 "As a long time proponent of the 4-3-3 I learned some fresh ideas from the multiple versions that were discussed and picked up some pointers from the discussion of the use of the 4-4-2 against the 4-3-3.  Whether you want to improve how you play within your own formation or how to play better against the opposite formation there are key points and suggestions made that will open your eyes.  From a broad stroke overview to the finer points each coach's use of their formation is thoroughly covered."
  Chuck Coan, Michigan Tech University Assistant Coach Women's Soccer, Head Coach Kaukauna WI Girls High School Soccer

"Discover the systems, formation changes and tactics used by two of the world's greatest managers"
Ferguson and Mourinho both shared a belief in building on a strong back four. After that, their tactical outlooks differed considerably.
Mourinho's favored 4-3-3 formation relied on using a playmaker as an offensive weapon, offensive wingers that would directly attack the box and a lone forward as a pivot to open space for oncoming players. Whereas Ferguson focused on a strategy that closed down opponents, attacks that started from the back and fullbacks that could overlap to give them a numerical advantage further up the field.
Through detailed diagrams and clear explanations, 4-4-2 vs 4-3-3 analyses in detail the characteristics of each managers' formation and how each enabled them to dominate opponents. In addition, this unique  book answers many key questions about their systems and tactics, such as did the players fit the system or the system fit players; how did Ferguson setup his team to successfully defeat Chelsea in the Champions League Final and how did Chelsea manage to score so frequently with only a single established forward.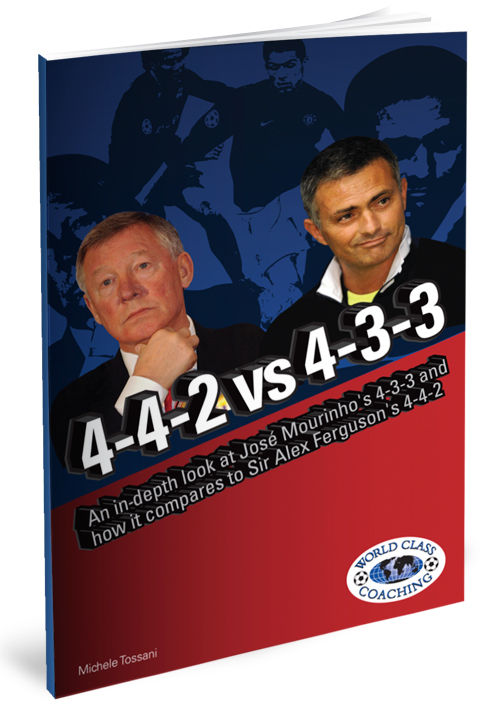 For both students of the game and expert coaches alike, 4-4-2 vs 4-3-3 is the definitive analysis of two of the playing styles of two of the Premier League's great tactical wizards.

"Expertly written to provide the perfect studying guide to two of the world's greatest soccer managers and how the 4-4-2 compares to 4-3-3"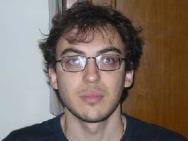 Author of 4-4-2 v 4-3-3 Michele Tossani is a coach and student of the game. Tossani is the author of a number of books including A Coach's Guide to the 4-3-3, Zonal Defending the Italian Way, Champion's League Tactics, Modulo 4-3-2-1 and Analisi Tattica Champions 2002 – 2003. He has also written numerous articles for the popular Italian soccer web site www.allenatore.net.
What's covered in 4-4-2 v 4-3-3

This book is organized into chapters that focus on the playing styles of Chelsea and Manchester United individually before pulling them together into a concluding chapter at the end. Through extensive detailed diagrams and clear explanations, 4-4-2 vs 4-3-3 provides a methodical analysis of these two great English Premier League sides.
José Mourinho's 4-3-3 – This chapter starts by looking at the advantages and disadvantages of playing 4-3-3, which is arguably one of the most popular formations in the top divisions of European soccer. It then examines how Mourinho's Chelsea formation differed from a typical 4-3-3 and how it was effective against the 4-4-2 formation adopted by many Premier League sides. In particular, it discusses how you can use the superiority of a packed central midfield and how the greater numbers upfront can spread the defense, creating opportunities of your forwards.
Sir Alex Ferguson's 4 – 4 – 2 – The book's title is a little disingenuous because Alex Ferguson has been known to switch to a 4-2-3-1 or 4-4-1-1 depending on the circumstances. This chapter analyses how Ferguson's formation utilized wings in the offence, the combinations between forwards and the use of fullbacks for quick counter attacks.
In addition, this chapter assesses the special attributes of the 1999 team's midfield of Roy Keane, Paul Scholes, Ryan Giggs and David Beckham, and then how the team was adapted to accommodate the talents of Christiano Ronaldo, Wayne Rooney and Carlos Tevez.
Mourinho's Key Chelsea Players – This section assesses the characteristics of key players under Mourinho's reign at Chelsea and how they were utilized. This includes Petr Cech, Frank Lampard, John Terry and Didier Drogba.
Ferguson's Key Manchester Utd Players – Manchester United has never struggled to attract the world's best players, and Ferguson has proven to be adept at combining big name signings with high quality home grown talent. Illustrious names on his team sheet over the years have included Edwin Van der Sar, Jaap Stam and David Beckham.
What We Can Learn From Mourinho and Ferguson – In his closing chapter, author Michele Tossani summarizes what coaches can learn from these two great managers, along with their tactical similarities and differences. How did each utilize the holding midfielder and what were their differing attitudes to wingers? Both these questions and many more are answered in this unique book.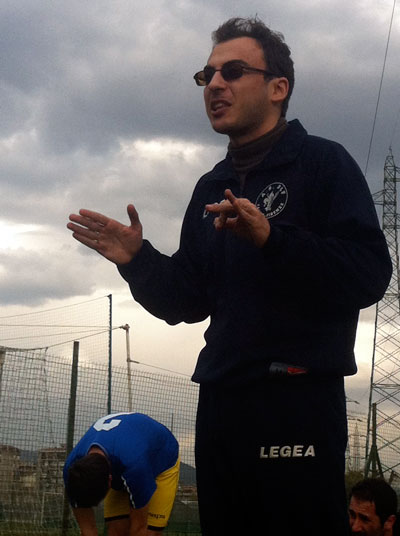 Author Michele Tossani on the training field

What you will gain from 4-4-2 v 4-3-3  
What better soccer coaching education than getting inside the mind of two of the game's greatest tactical wizards? If you've ever wanted to coach your team on how to replicate the relentless 'never give in' mindset of Manchester United or the attacking flair of Chelsea, then this is the book for you. Through detailed diagrams and clear explanations, it shows you exactly how each manager utilizes their chosen formation to get the results they needed.
From 4-4-2 vs 4-3-3 you will discover:
The strengths and weaknesses of a conventional 4-3-3 formation
The unique characteristics of Mourinho's 4-3-3 at Chelsea
How both teams utilized key players to their advantage
How the dynamics of each team changed to accommodate new signings
How to play to the strengths and weaknesses of the opposition, whether you play 4-4-2 or 4-3-3
How to utilize passing movements to open up defenses through superior numbers on the attack
Profiles of the characteristics and roles of key players on both teams
Insight on how you can utilize Mourinho and Ferguson's systems to improve your own tactics
A deeper understanding of the role of the playmaker both to break up attacks and as an offensive weapon
How you can still win without a dominant goal scorer
How to utilize wings in offense, in both the Manchester United and Chelsea style
How to mirror Ferguson's use of fullbacks as an attacking asset and to sap the energy of the opponent's offensive wings
Tactical insights into how Manchester United defeated Chelsea to win the Champions League Final in 2008
When and how to adjust your formation in different phases of the game
Ultimately, your tactical nous and reading of the game will be enhanced by this unique book. You will gain an enriched understanding of how two of the game's greatest managers turn games in their favor through tactical changes, and how to apply their philosophies to your own team.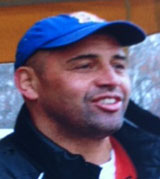 "I really enjoyed reading the 4-4-2 vs. 4-3-3 by Michele Tossani. Mr. Tossani gives you an in-depth look at how to utilize the 4-4-2 vs. 4-3-3 in both offensive and defensive formations from two of the top coaches in the world and their tactical thinking. I highly recommend this book."
  John Abe ex pro player and youth coach since 1987.

100% 'no quibbles' 6 Month Money Back Guarantee
WORLD CLASS COACHING is recognized globally for the quality of its soccer coaching resources, which are used by over 40,000 soccer coaches from around the world. We wouldn't be offering you 4-4-2 v 4-3-3 unless it achieves our exceptionally high standards. However, if you are not 100% satisfied with the quality of 4-4-2 v 4-3-3 after six months then please contact us for a no quibbles refund.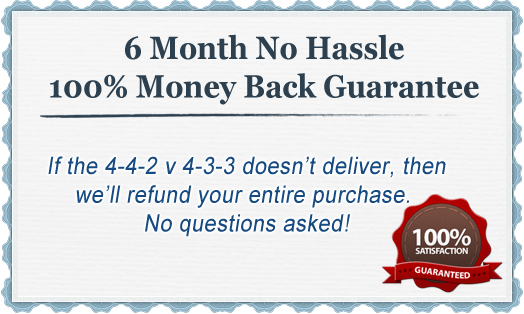 "4-4-2 vs 4-3-3 is more than just a tactical analysis of two of the game's most prominent formations. It's a look inside the tactical minds of two legendary managers"

If you've ever wondered what the secrets are behind Alex Ferguson and Jose Mourinho's success, now you can find out through this in-depth study of their formations, tactics and philosophies. 4-4-2 vs 4-3-3 explains in detail everything you need to know about how they utilize their players to outwit opponents, to create more goal scoring opportunities and to get the results they need to win numerous league titles and cup tournaments.
This special book's detailed diagrams and explanations will enable you to understand exactly how their teams operate and will provide you with valuable insights you can apply to your own team's tactics.
Whether you are a student of the game or a coach playing at the highest level, 4-4-2 vs 4-3-3 is a unique analysis of two of the game's greatest tactical wizards and a valuable addition to your coaching education.
Best Wishes,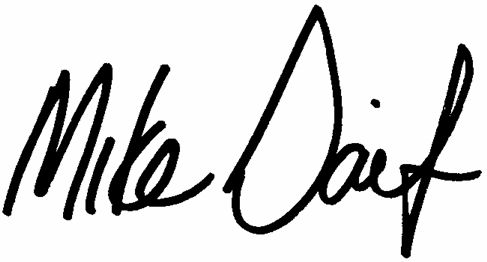 Mike Saif
Presiden
P.S. 4-4-2 vs 4-3-3 is a unique book focused on the formations, systems and tactics of Manchester United's Alex Ferguson and Jose Mourinho's Chelsea. Two of the most dominant teams in the English Premier League, this book shows you through detailed diagrams and clear explanations how each manager utilized their chosen formation to dominant the opposition. From getting inside the minds of these soccer geniuses, you will gain an enriched understanding of how to prepare your team's formation and tactics you can use to improve their performance.
P.P.S If you are not 100% satisfied with the quality of the soccer coaching resources in 4-4-2 vs 4-3-3 after six months then we will refund your purchase in full, no questions asked.