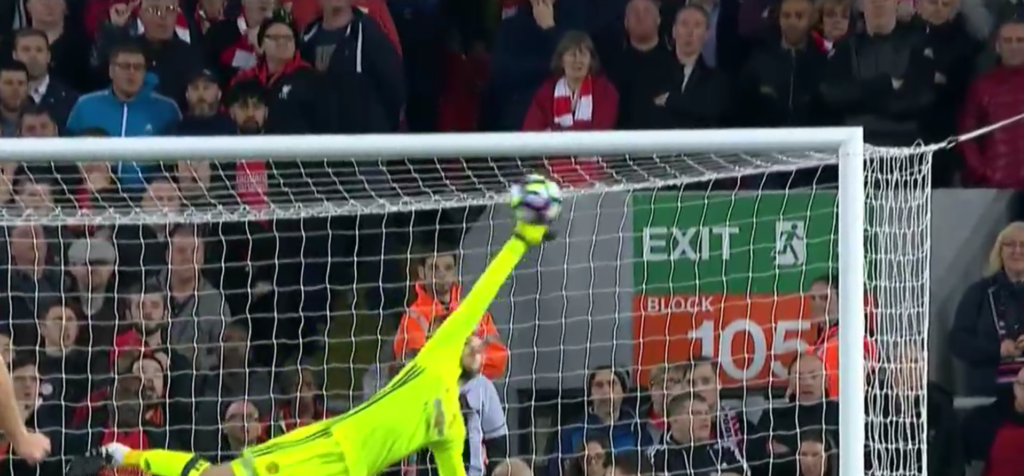 A review of the Oct 17, 2016 EPL match up of Liverpool v Manchester United and a look at the different styles of play and formations of Jurgen Klopp and Jose Mourinho from the upcoming book: 4-3-3 vs 4-2-3-1 authored by Sean Pearson.
Rivalry
Liverpool and Manchester United are England's 2 most successful clubs. With a combined total of 87 major trophies (Liverpool 44, Manchester United 43) their success is unmatched in the English game. Separated by 33 miles in the north west of England their fierce rivalry has developed into a worldwide draw. An estimated 600-700 million people tuning in on average for each game makes it the most watched game on the calendar each year, even more than 'El clasico' in Spain with Barcelona and Real Madrid.
With Liverpool's success in the 70's and 80's and Manchester United's more recently in the 90's and 00's at each time one team succeeds to extreme levels while the other drifts around in mediocrity. This breeds resentment and jealousy from each fan base, watching a team so close have all that success, that you desire, while your club stands in the shadows.
Being a Liverpool fan myself born in the 80's I have only ever lived with the dominance of Manchester United winning the Premier League title year after year, while Liverpool didn't even come close, baring a couple of years. Liverpool have had their moments in 2001 winning a cup treble and in 2005 winning the Champions League amongst a few other trophies but the last 2 and a half decades have been dominated by Manchester United and Sir Alex Ferguson.
Ferguson famously said he wanted to 'knock Liverpool of their f*****g perch' when he arrived from Aberdeen and he did just that. But after he retired, Manchester United have fallen from the giants they once were. With the unsuccessful tenures of David Moyes and Louis Van Gaal Manchester United fans have now been brought back to earth with a bump. Going through what every other fan has gone through with changes of manager to their club. Changes in style, no consistency and expensive failed signings amongst other things.
After a mixed 3 years under Brendan Rodgers, Liverpool decided to change direction, with a fantastic manager out of work, who had previous experience at winning titles, something Liverpool craved more than anything, they decided to release Rodgers of his contract and sign the charismatic Jurgen Klopp. With a sense of sarcasm and wit he announced himself as 'the normal one' and instantly endeared himself to Liverpool's fans. Calling for the fans to change from 'doubter to believer' in his first interview Klopp understands the psychological impact a manager can have on a football club.
Manchester United, for fear of being overtaken by not just Liverpool, but Manchester City (who hired Pep Guardiola) and Chelsea (Antonio Conte) jumped at the chance to sign Jose Mourinho, who has a track record of success. Jose's style is different to Sir Alex Ferguson's but it brings trophies, which is what Manchester United want.
Build Up
They called it Red Monday in England, a night game at Anfield with the whole world watching. A Liverpool team in great form, already beating both Arsenal and Chelsea away from home and a Manchester United team beginning their journey under Mourinho. But with Manchester United winning the previous 4 meetings, no team has ever lost 5 in a row. According to Sky Sports this fixture has the second most red cards in Premier League history with 16 and is not favorable to Liverpool, with them having lost more Premier League games against Manchester United (27) than against any other opponent.
The world was ready for a showdown of epic proportions, we wanted both teams to attack and fight fire with fire. The problem? Jose Mourinho. If there was one manager in the world that doesn't care about public opinion or pressure, its Mourinho. He does what he wants and uses the tactics on how best to achieve that outcome. He has a track record of not doing what others say he should and being right in his actions. And this was no exception.
The Aftermath
In the Premier League, there are good draws and there are bad draws. There is no doubt Mourinho came not to lose. Losing would have done much more than just give Liverpool 3 points. Drawing away at your biggest rivals is a good point, would Manchester United have preferred 3 points, absolutely but instead of leaving with 0, they left with 1 whilst restricting Liverpool also to 1 frustrating them in the process.
In the aftermath of the game Mourinho came under heavy criticism from the media for 'parking the bus' which for those not used to the term basically means put as many men behind the ball as possible, be compact to not allow the other team through you to score and don't venture forward to allow the other team to counter. Guess who didn't care?
But did Mourinho just park the bus? Or were there other tactical components of the game. Liverpool are the most fluid team in the Premier League and have players interchange constantly (as covered in my upcoming book: 4-3-3 vs 4-2-3-1. Where I analyze Jurgen Klopp's Liverpool and Jose Mourinho's Manchester United) but Mourinho managed to frustrate Liverpool's players by restricting this movement. I will explain how. If he didn't an argument could be used if he had not, Manchester United would have conceded 4+ goals, like Arsenal, Leicester, Hull, Crystal Palace and Watford.
LINE UPS
Liverpool were not able to field Jurgen Klopp's preferred line up. In the week before the game, there was an international break.
Both Lallana and Wijnaldum suffered injuries and were unable to start. Lallana however was fit enough to be a substitute.
These players being out needed Klopp to reshuffle his team by dropping Coutinho into an attacking midfield role, move Firmino out wide and insert Sturridge as the central striker.
Emre Can was brought in to the starting lineup but had also been out with injury and this was his first start for some time and so was not match fit.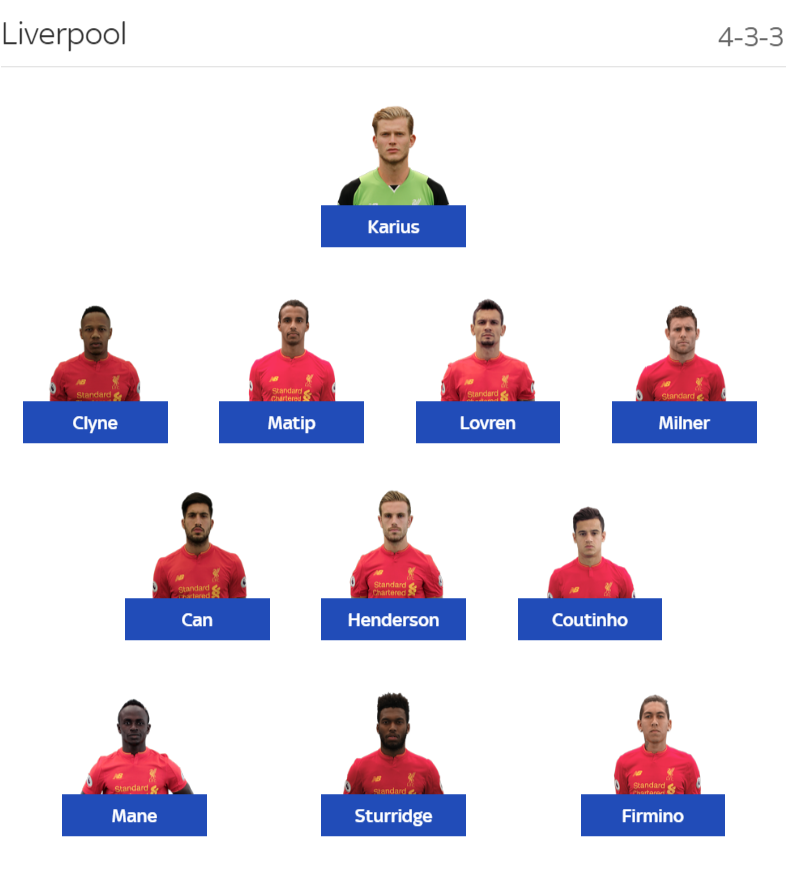 Mourinho decided to go with size throughout his team with Bailly, Smalling, Fellaini, Pogba and Ibrahimović all towering over 6 foot. A lot has been made over Liverpool's weakness being in defending set pieces so using these players gave Manchester United an advantage in that area.
Mourinho also went for pace out wide with Rashford and Young to exploit Liverpool's high pressing style and get behind their advanced full backs.
Herrera was a key figure in the result as I will discuss later, but his positioning and awareness helped balance the Manchester United midfielder to help with Mourinho's tactics.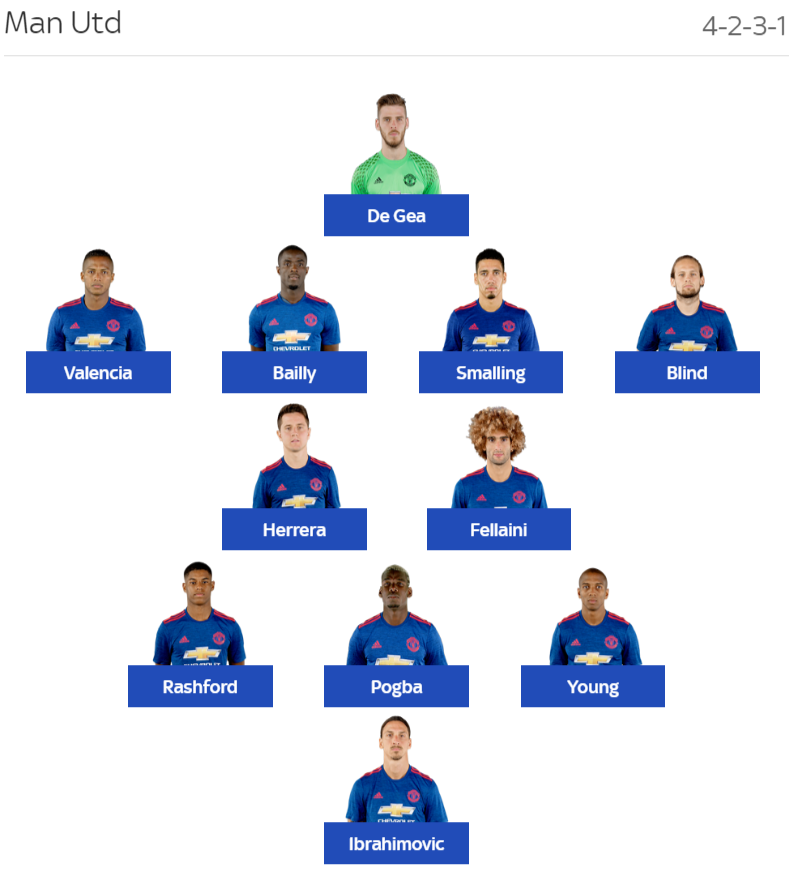 1ST HALF
Manchester United's Defensive Strategy
Jose Mourinho set out his team to be disciplined and frustrate Liverpool. He knew trying to compete with them like for like would have been playing into Liverpool's hands. His aim was to stop Liverpool penetrating and keep his midfield in front of Liverpool's. If the likes of Coutinho, Firmino and Mane were to allowed to have the ball in space where they can interchange freely and attack at will it would be devastating to United's hopes of success.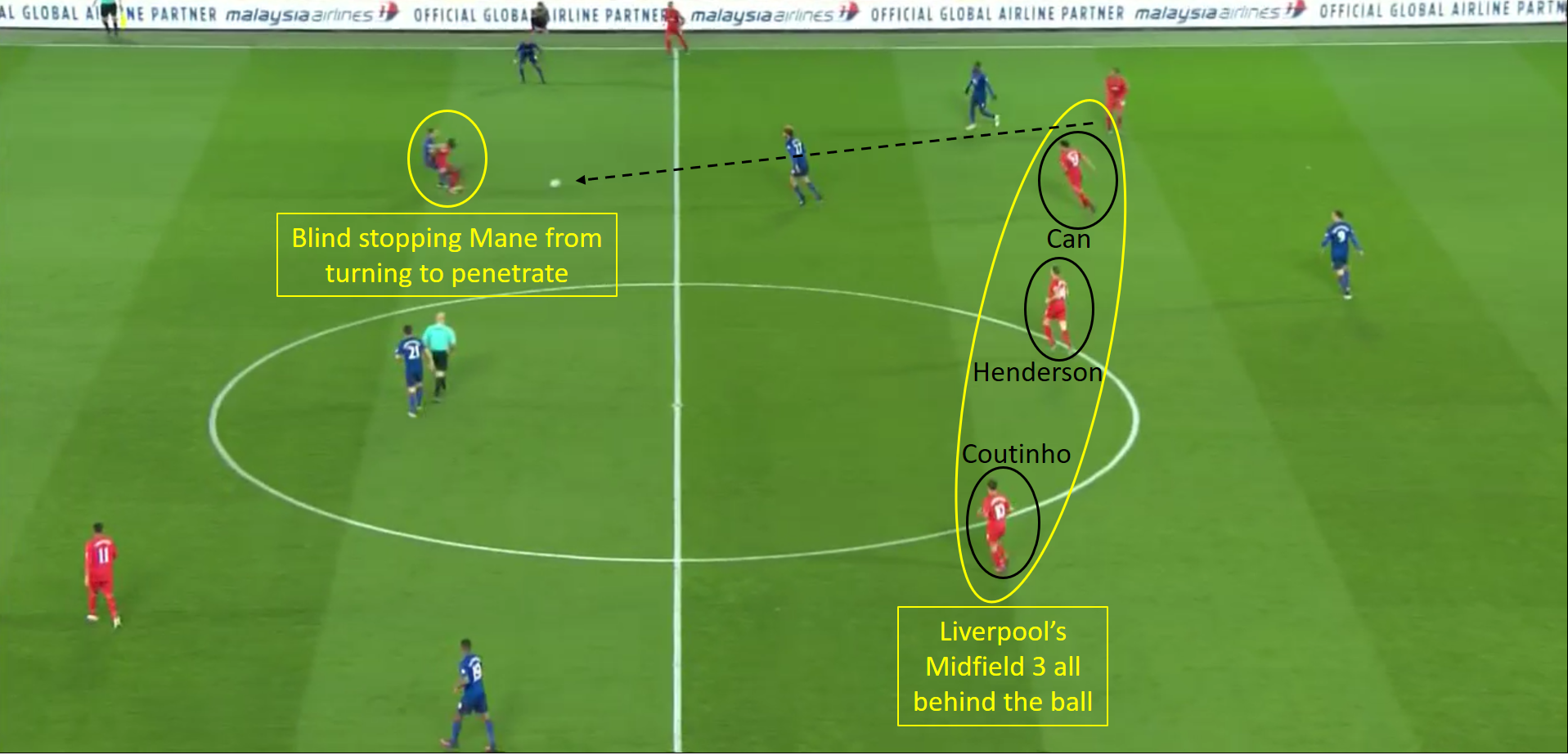 Here we see Liverpool's midfield 3 all behind the ball, offering no forward passing options into gaps behind United's midfield. When passes are played into Liverpool player's feet there was a United player pressing them from behind to force backwards and sideways passes so they could not get in behind them. Above we see Blind pressing Mane, a tactic used by Mourinho I will discuss later on, but Blind was specifically used to frustrate Mane.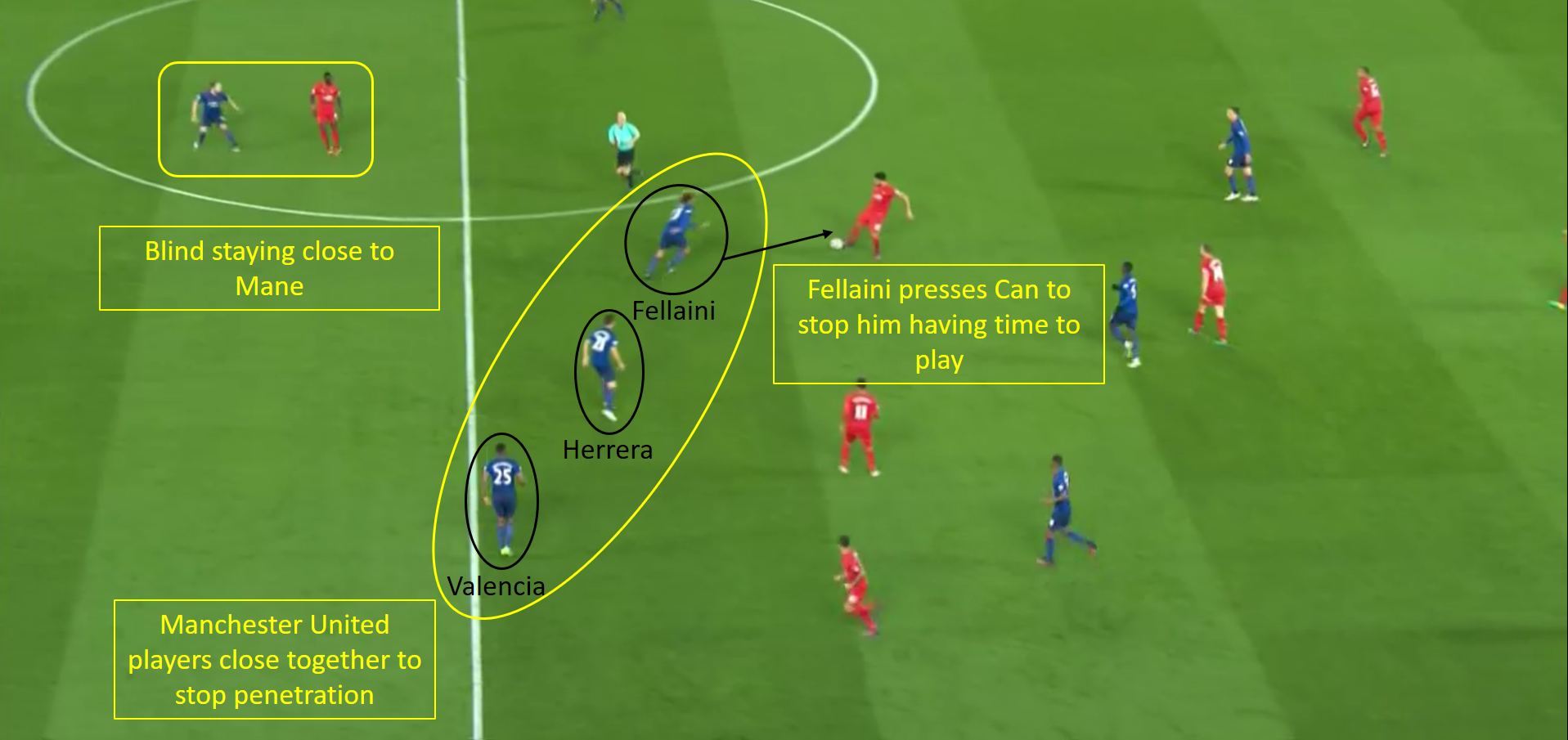 Here Fellaini presses Can immediately giving him no time on the ball. Blind is not giving Mane any room, even though Mane has come centrally, so taken Blind away from his left back position. Henderson, Can, Coutinho and now Firmino are all in front of the United Midfield now so options to go forwards are limited.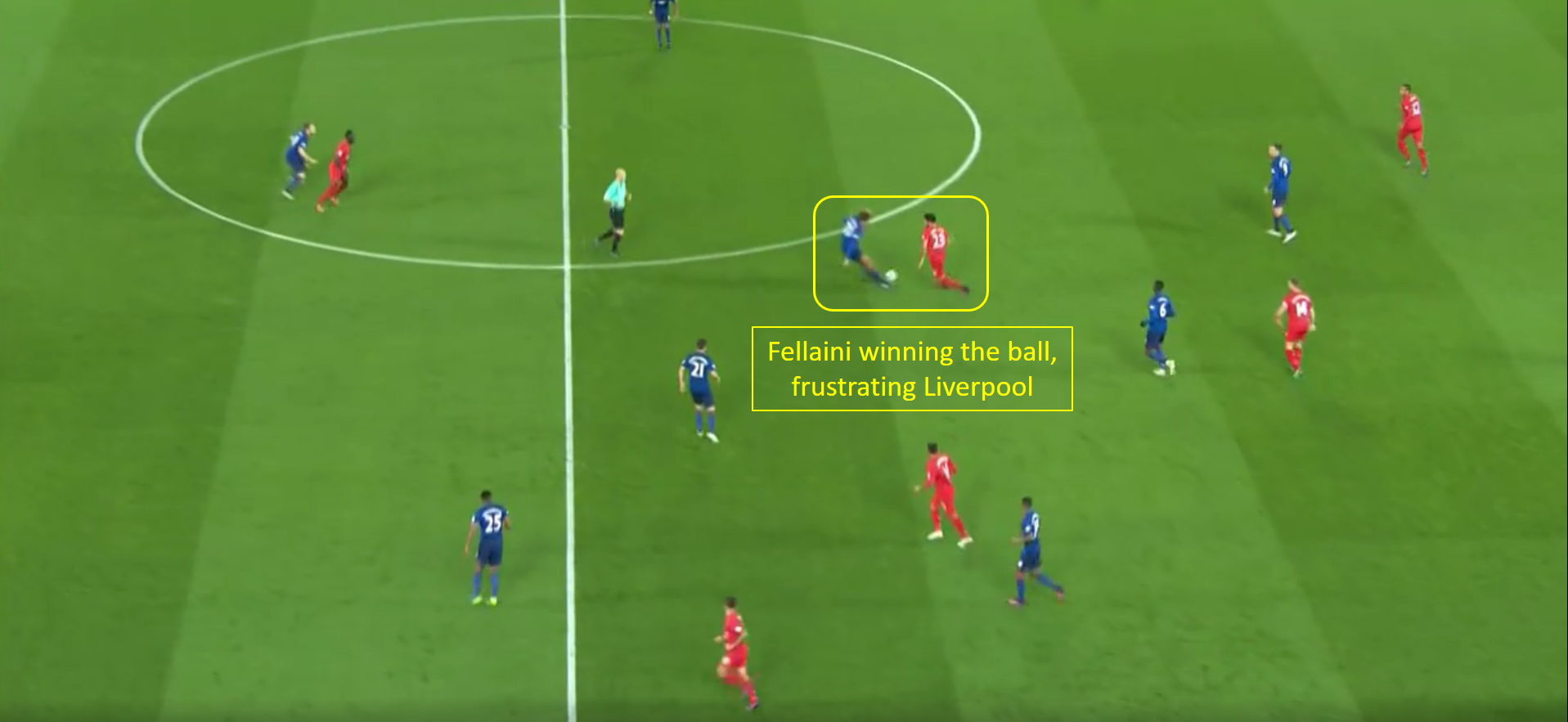 Liverpool lose possession from Manchester United stopping them going forward by pressing at the right time.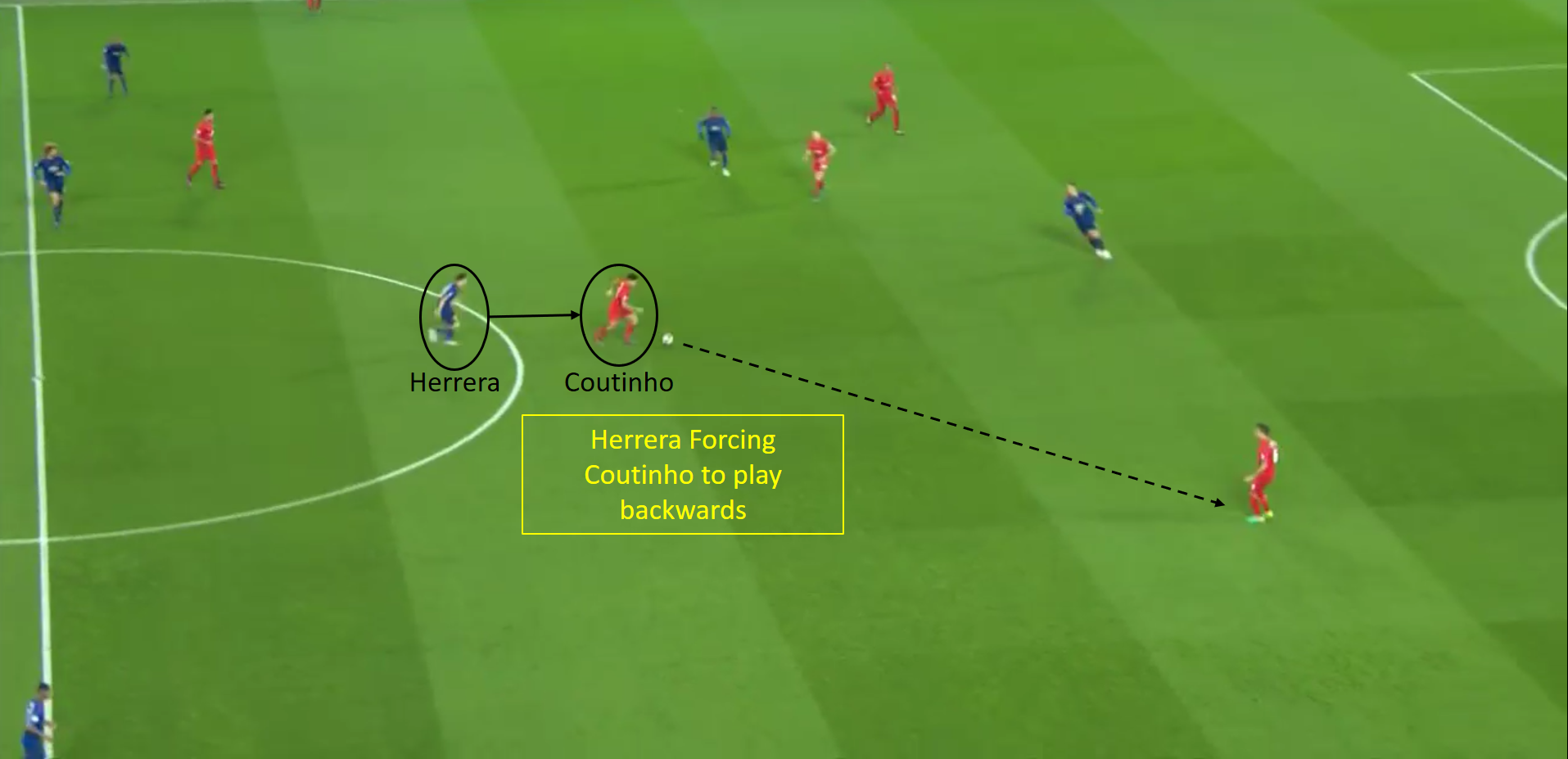 Here is another example of a Manchester United (Herrera) player stopping the forward progression of a Liverpool player (Coutinho) forcing them to pass backwards.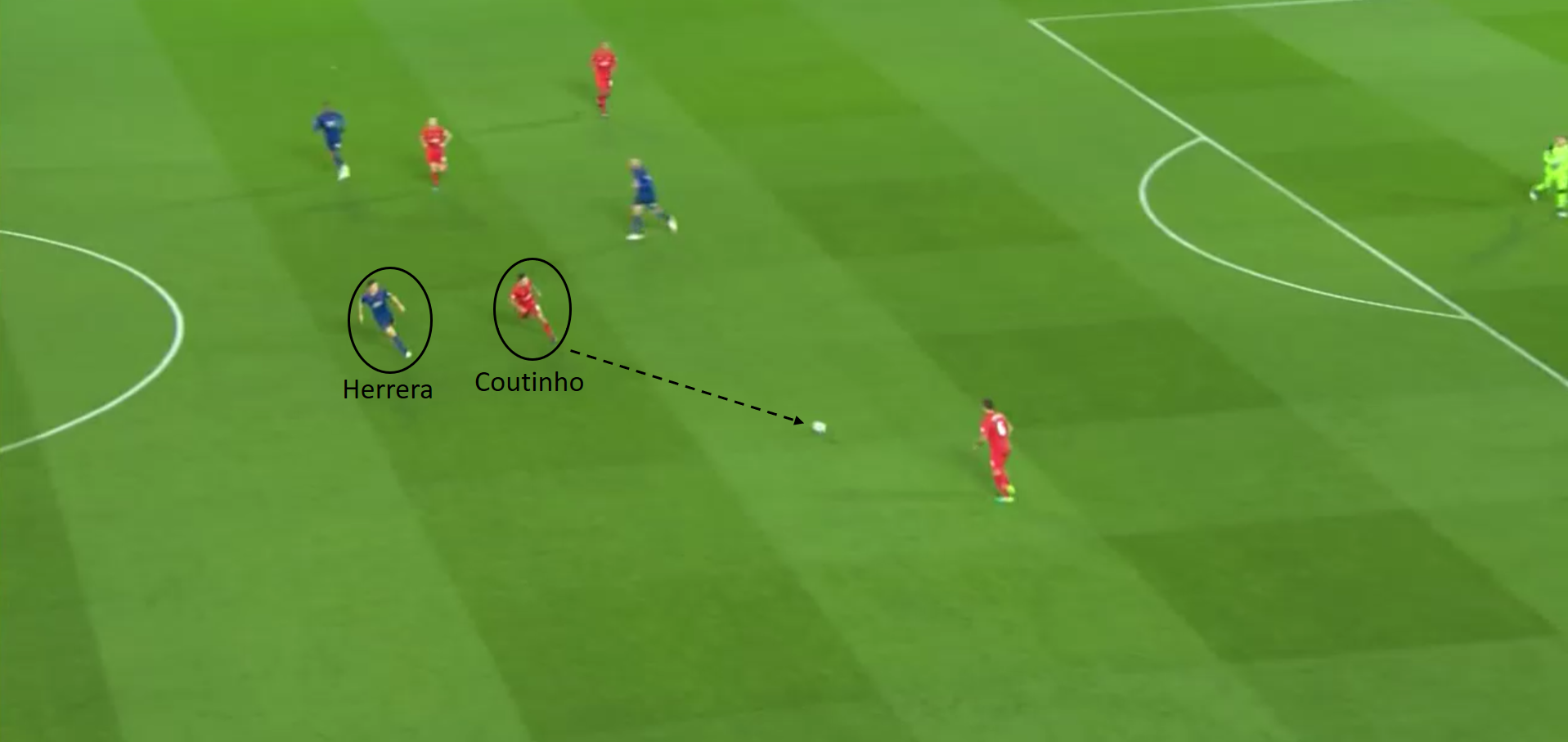 He also used Pogba and Ibrahimović to line up as a front 2 and positioned them high up the field to force Liverpool to kick long and rely on Bailly, Smalling and Fellaini to win the battle against a smaller, less physical Liverpool side containing players like Sturridge, Coutinho and Firmino who are not known for they aerial prowess.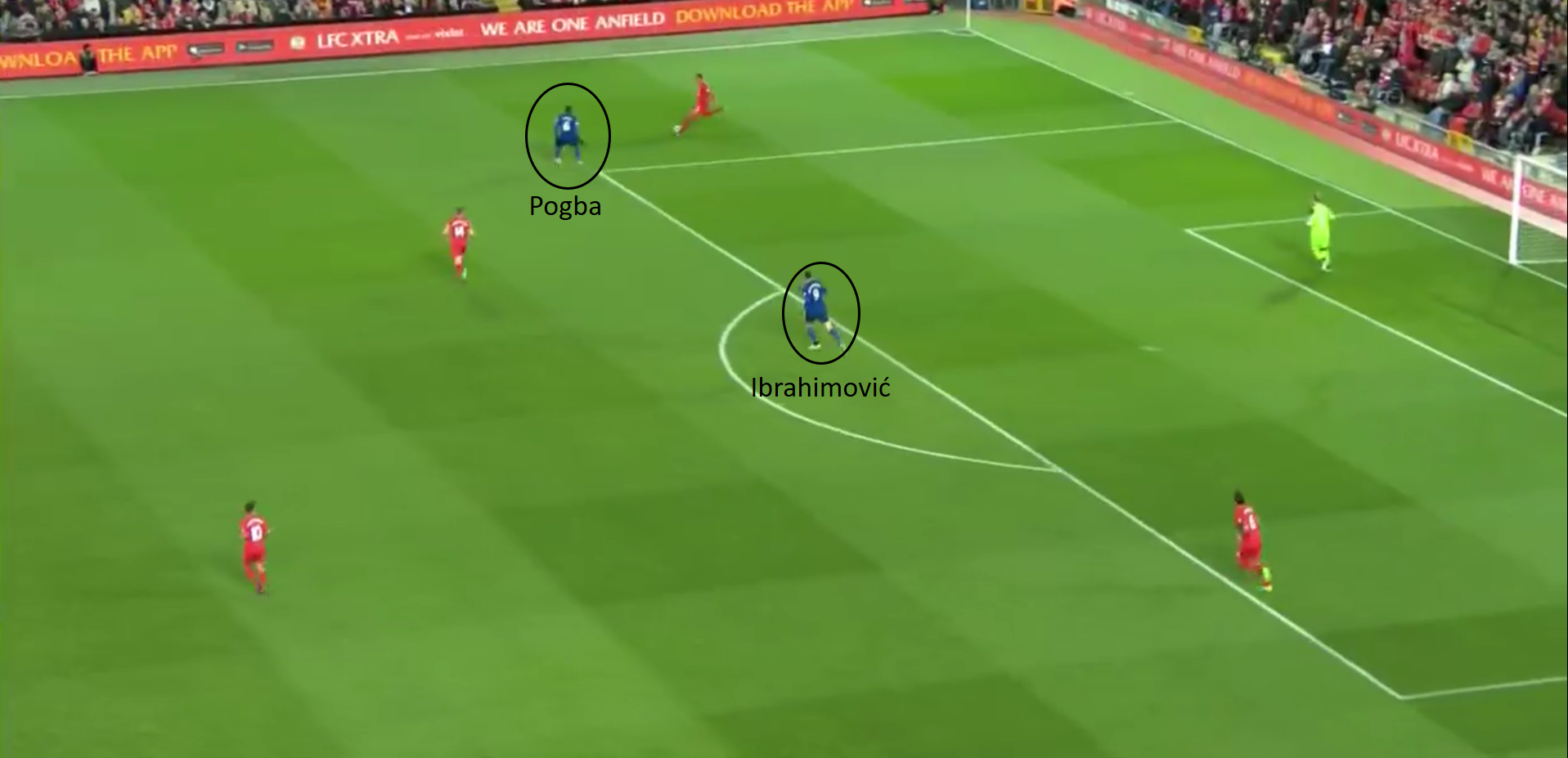 Above: Pogba forcing Matip to kick long instead of play out of the back like Klopp likes to do.
Below: Ibrahimović cuts off the pass across the area and the pass through to Henderson is risky so Karius goes long.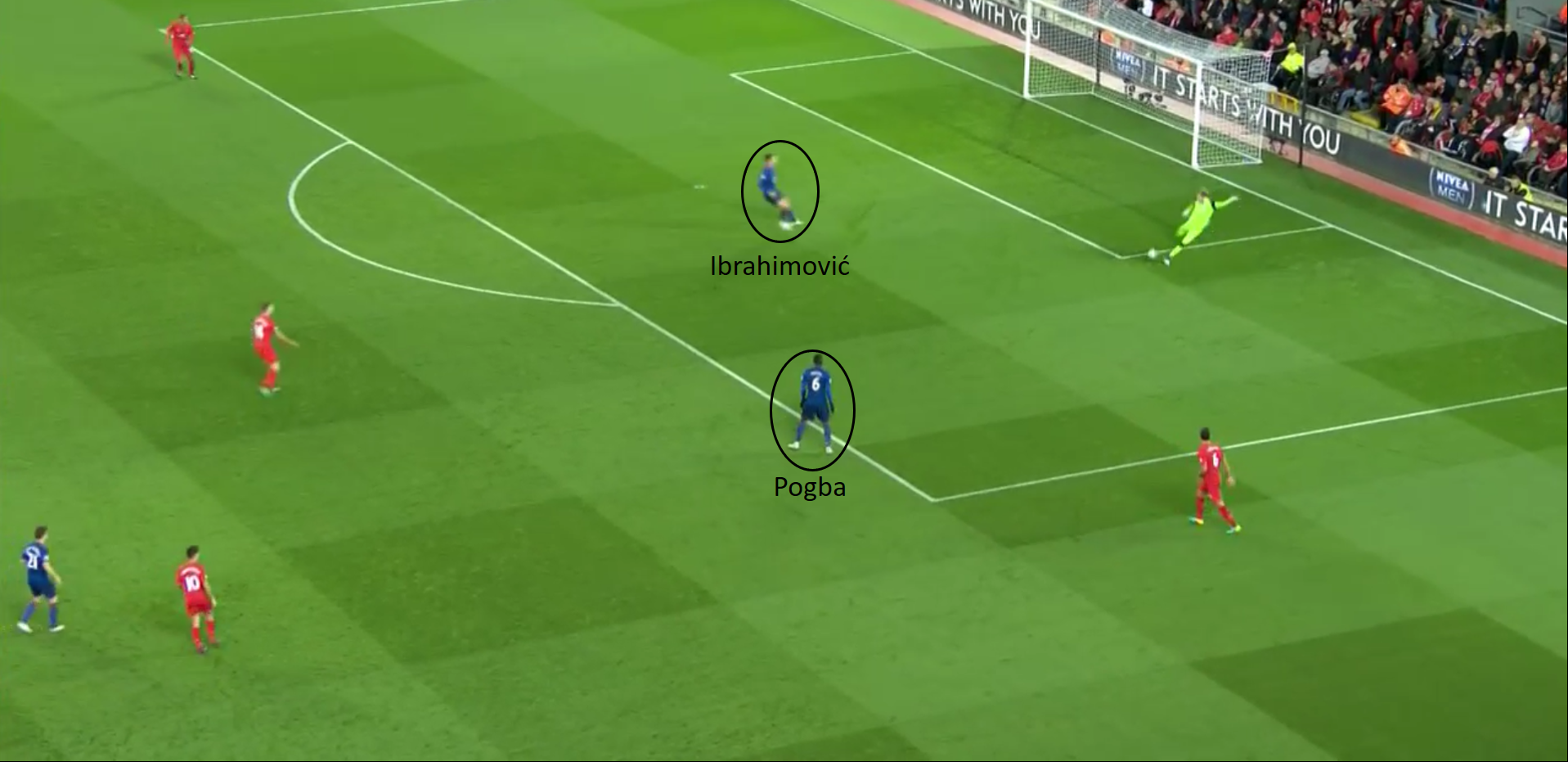 'Parking the Bus'
Whilst trying to stop Liverpool penetrating their midfield Mourinho knew that wouldn't be enough. At some point Liverpool would be able to move the ball up the field into the Manchester United defensive third and needed to be able to stifle their free-flowing movement. Luckily Mourinho had some experience in this area and was able to successfully beat Liverpool 2-0 at Anfield while in charge at Chelsea in the 2013/14 season that ultimately cost Liverpool the title. He used the same tactics that worked so well for him again in this game.
Narrow Midfield and A Back 6
So, what does parking the bus look like and how does it stop the other team from scoring? Mourinho instructed his midfield to stay compact to again deny penetration through the middle. Below you see the midfield forcing Liverpool to pass backwards while a wall of 6 players lines across the field giving no space between players. Below because of Blind's instructions to mark Mane, Fellaini has dropped in to left back to maintain the back 6.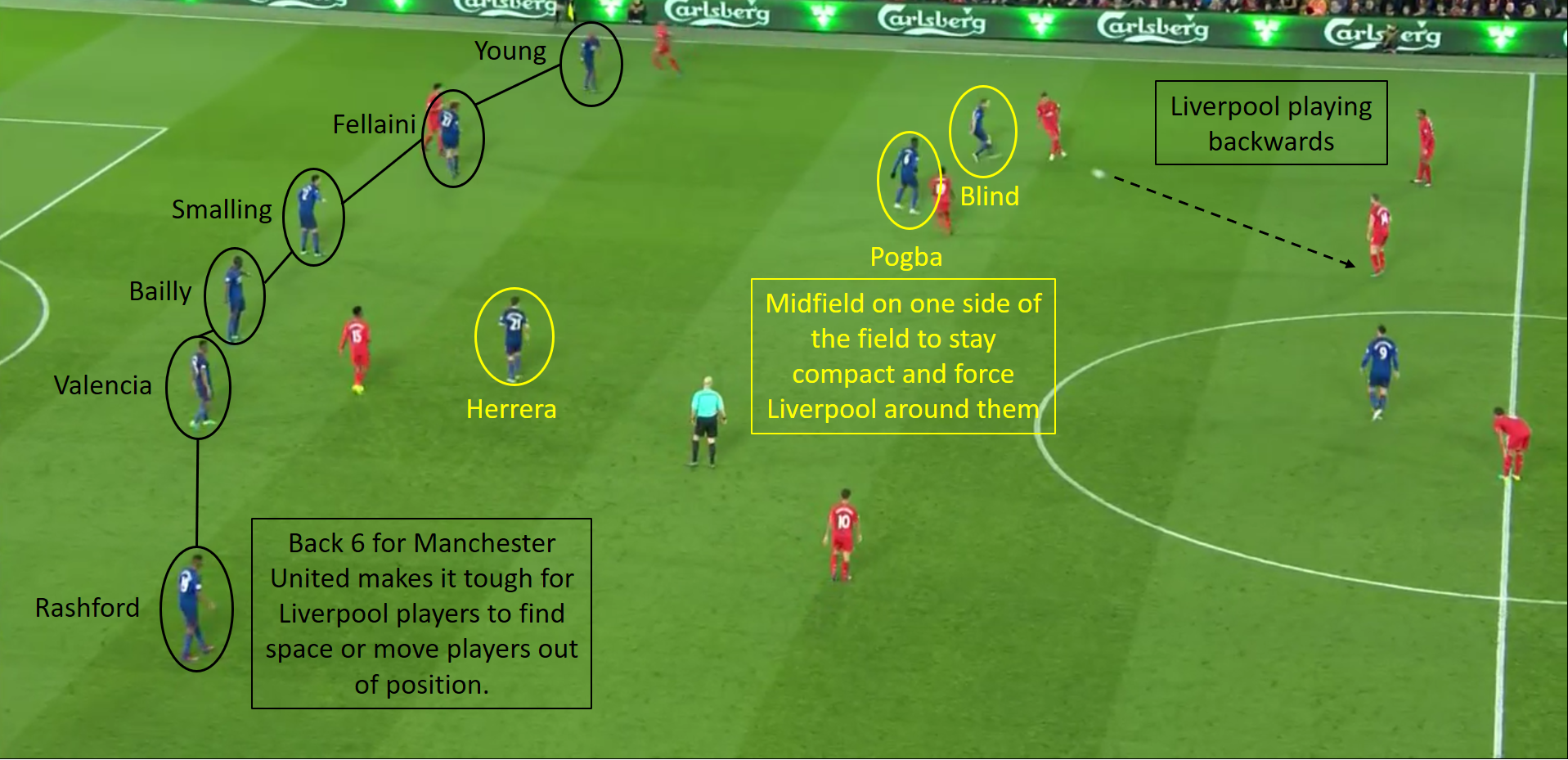 To create the back 6 Mourinho instructs his back 4 to become extremely narrow to deny any space between players, something Liverpool would have taken advantage of with their movement. He then orders his wingers to drop back far enough that they connect with the back 4 and become full backs.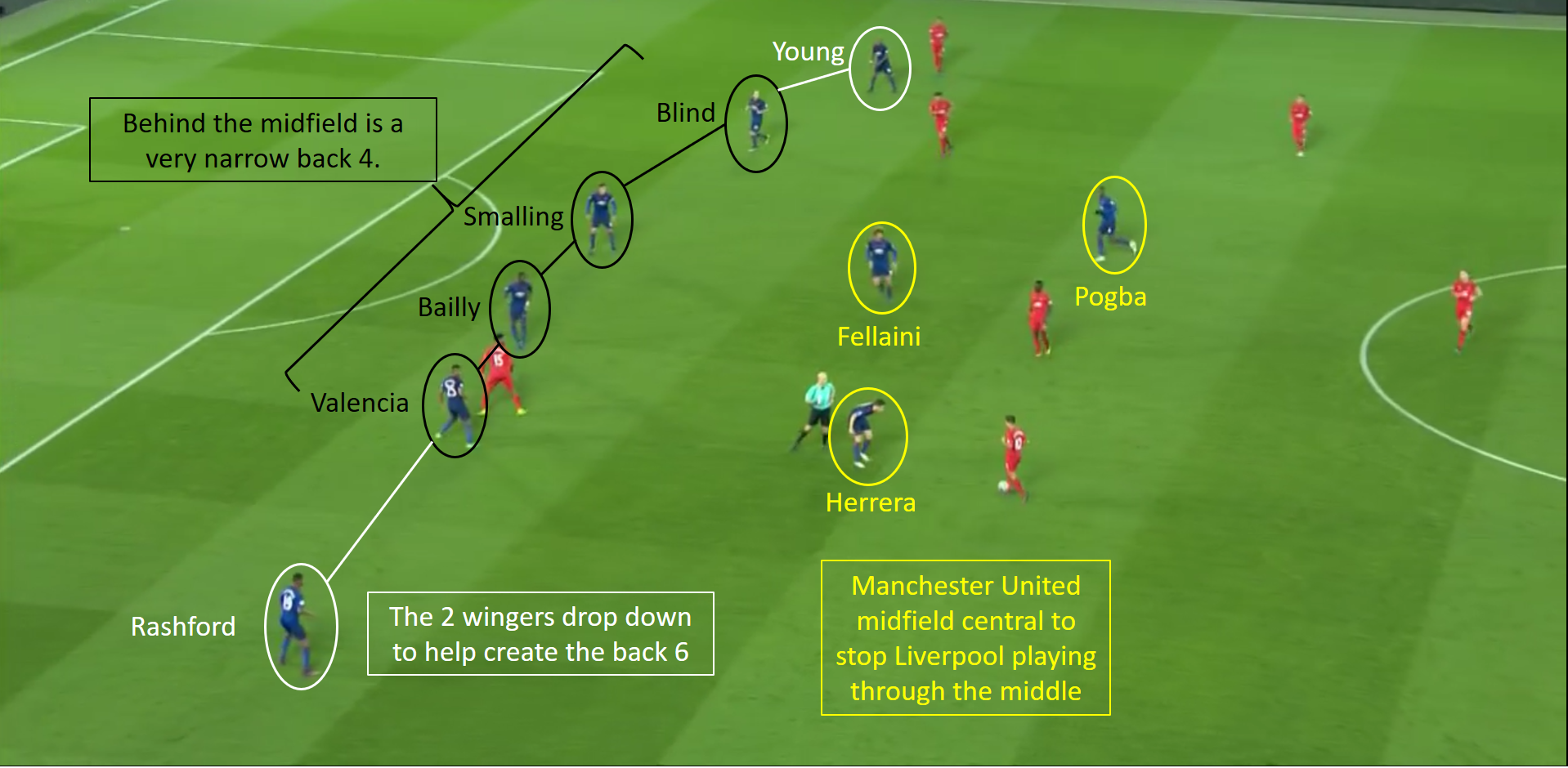 Klopp uses his fullbacks to create the width in Liverpool's attack and occupy the opposition full backs. He then uses the front 5 (front 3 and 2 attacking midfielders) to overload the middle of the field to manipulate the movement and positioning of the central players to create gaps for attacks. However, due to Mourinho's tactic of bringing down the wingers into the full back position this nullifies Liverpool's attacking flair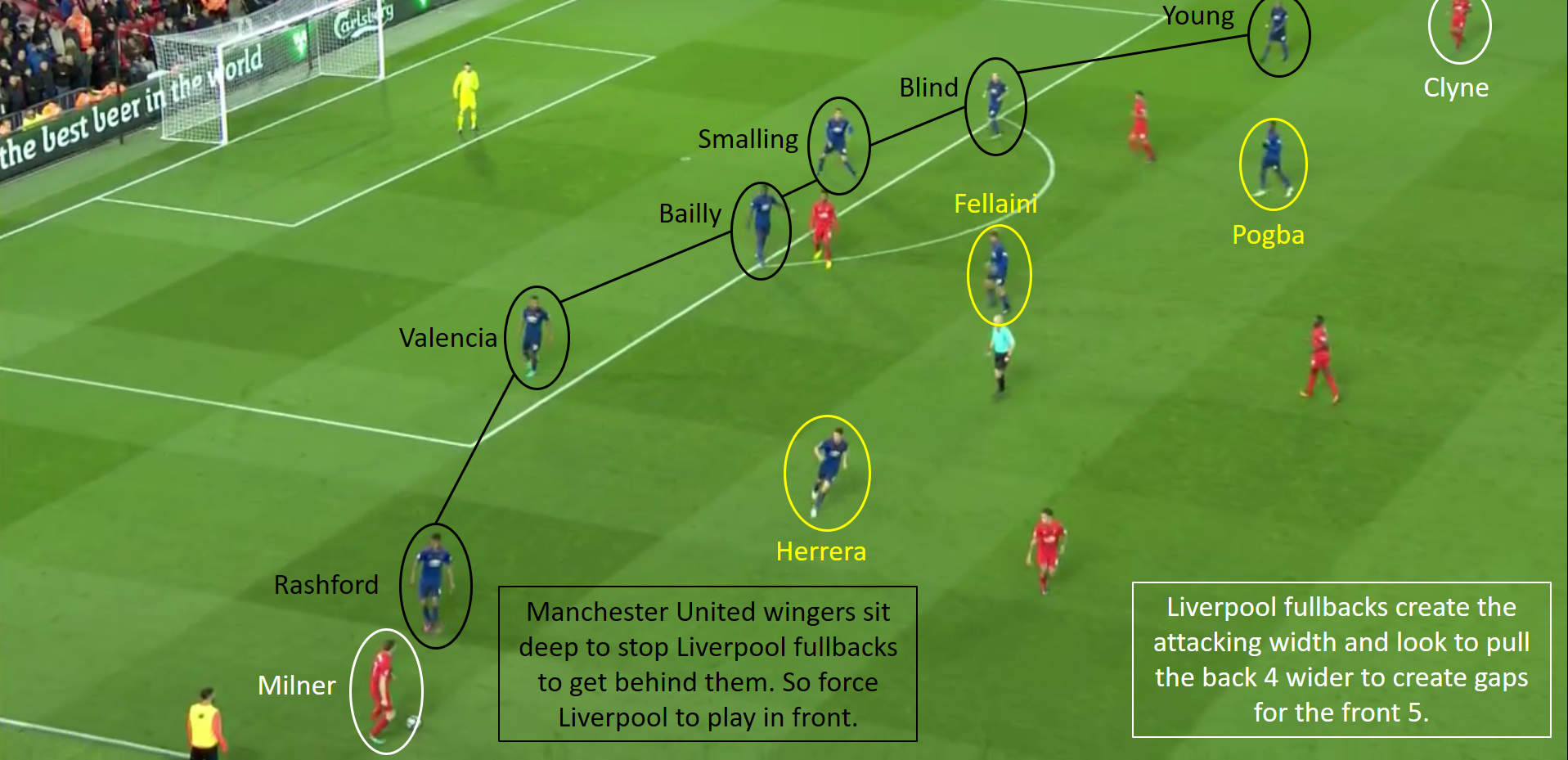 Manchester United's Player Roles
During the game, there were some specific roles for Manchester United players that Mourinho used to cancel out the threat from specific Liverpool players. Mane was highlighted as a main threat due to his speed and goal scoring ability. Another player Mourinho put emphasis on was Coutinho who is Liverpool's most creative player known as 'the Magician'.
Blind on Mane
Blind was told to follow Mane and to give him no space to operate. Usually against other teams Clyne will occupy the left back, pinning them back, so Mane can drop deeper to get on the ball. But Mourinho took a different tactic. He told Blind to follow Mane whilst telling Young to get back into a left back position so as to mark Clyne. This worked very well, especially in the first half as Mane was not influential in Liverpool's attacks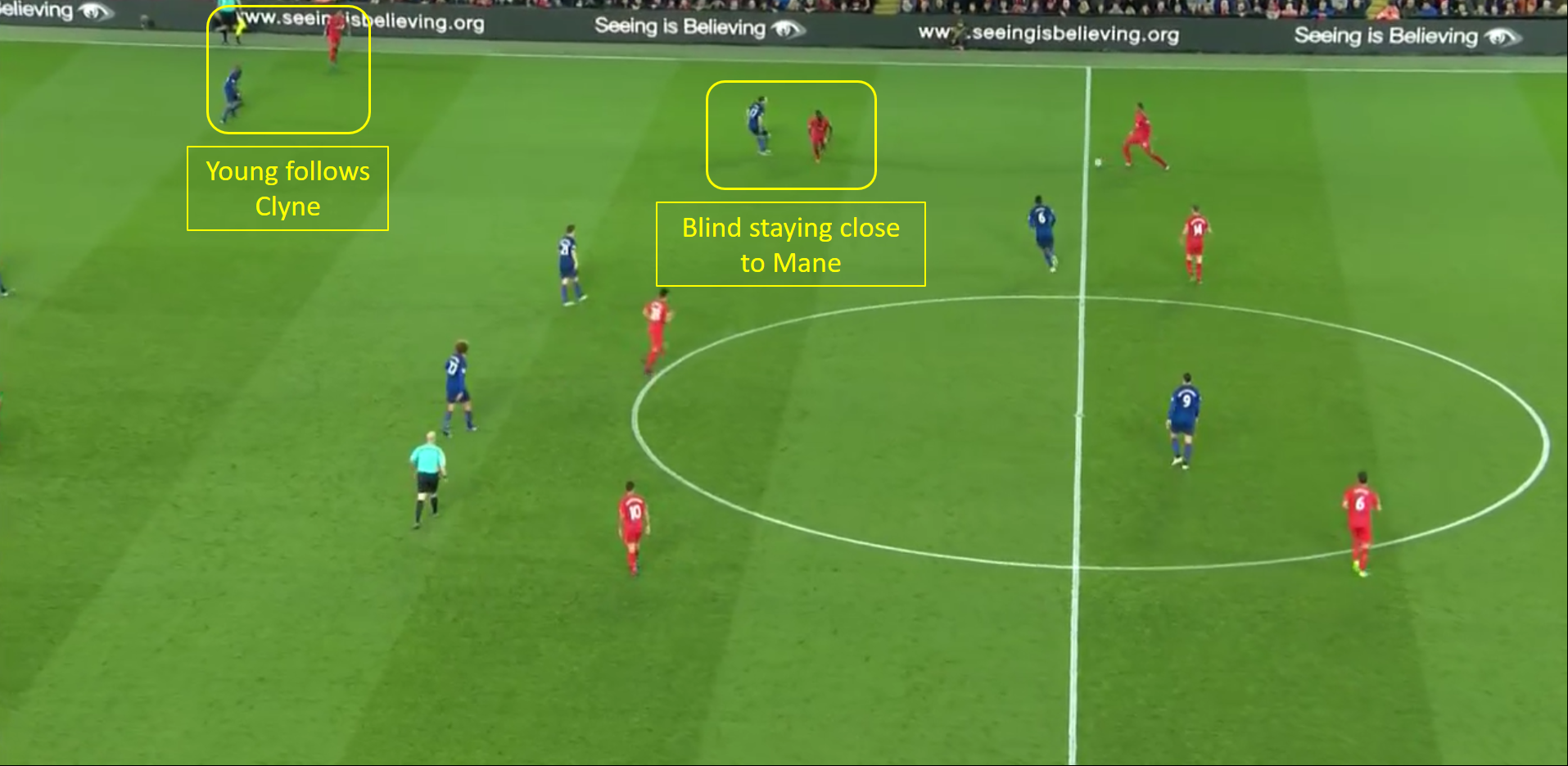 Herrera on Coutinho
Wherever Coutinho was, you could find Herrera. He was constantly a thorn in Coutinho's side by allowing him space in front then as the ball was passed to Coutinho, Herrera pressed him from behind forcing him to be conservative with his passes going backwards and sideways and not allowing him much influence over Liverpool's possession.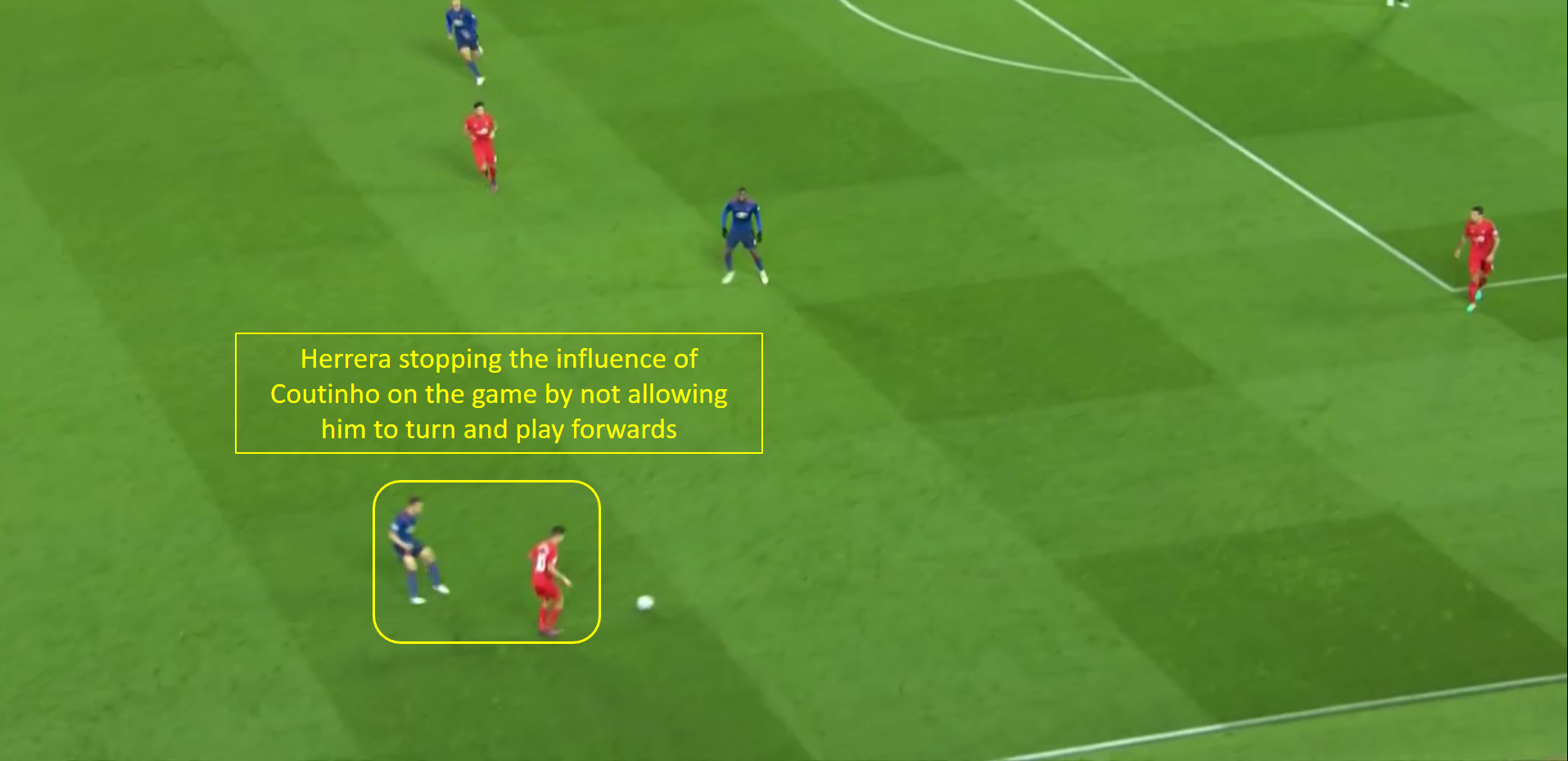 2ND HALF
Liverpool Breaking the Chains
In the second half, Liverpool began to break the chains of Manchester United's Stubborn stranglehold over their movement. Frustrated by an organized defense and likely given a strong talking too at half time, they emerged from the dressing room with more fight and drive. The attacking midfield 2 pushed further forward and cracks began to appear in Manchester United's strategy.
Below, Emre Can is further forward than in the first half, Fellaini begins to press the ball, however Blind is not back in time to keep the back 6 connected and a Liverpool find a pass through to Can who has more space than in the 1st half in this position. Can is able to use good footwork to create a chance on goal that brings out 1 of 2 world class saves for David De Gea.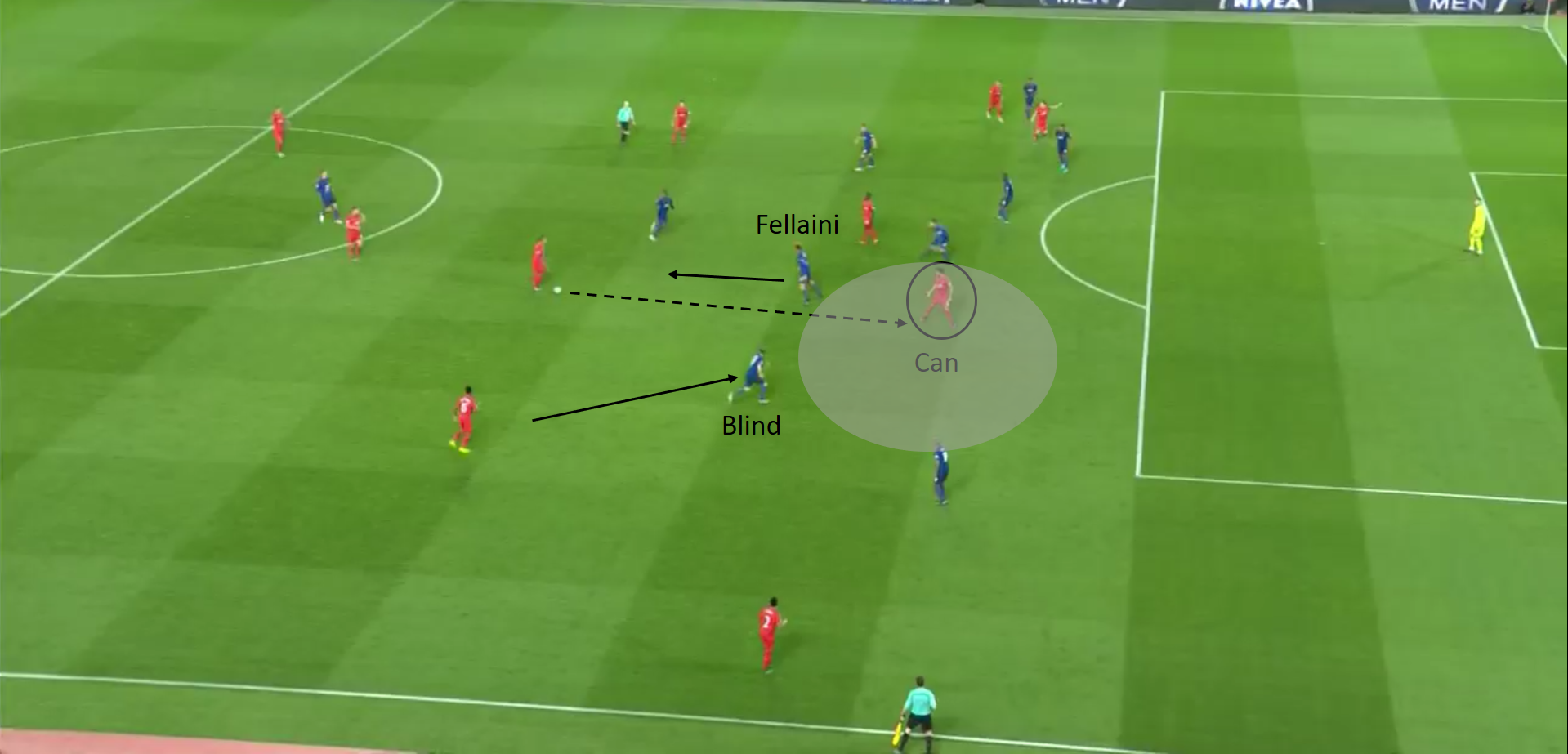 The Influence of Lallana
Adam Lallana got injured in Liverpool's previous game and was unable to play for England during the international break. Lallana has been the embodiment of Klopp's tenure at Liverpool to date. Turning his performances, with Klopp's instruction, into an effective creative attacking midfielder Liverpool paid for, rather than an individually skilled player with no end product. And this game highlighted how important Lallana is to Liverpool's high intensity, free flowing 'heavy metal football'.
When Lallana came on for Sturridge, who was nonexistent throughout his time on the field, it changed Liverpool's impetus. With Firmino now as a central striker and Coutinho as the wide left striker, Lallana was able to play his attacking midfield role and interchange with the front 3 to start creating problems for United and get in behind their back line. Below we see him exchanging positions with Mane so he occupies Blind to give Mane more room. This simple interchange now gives the United players something to think about so they become unhinged in their defensive strategy.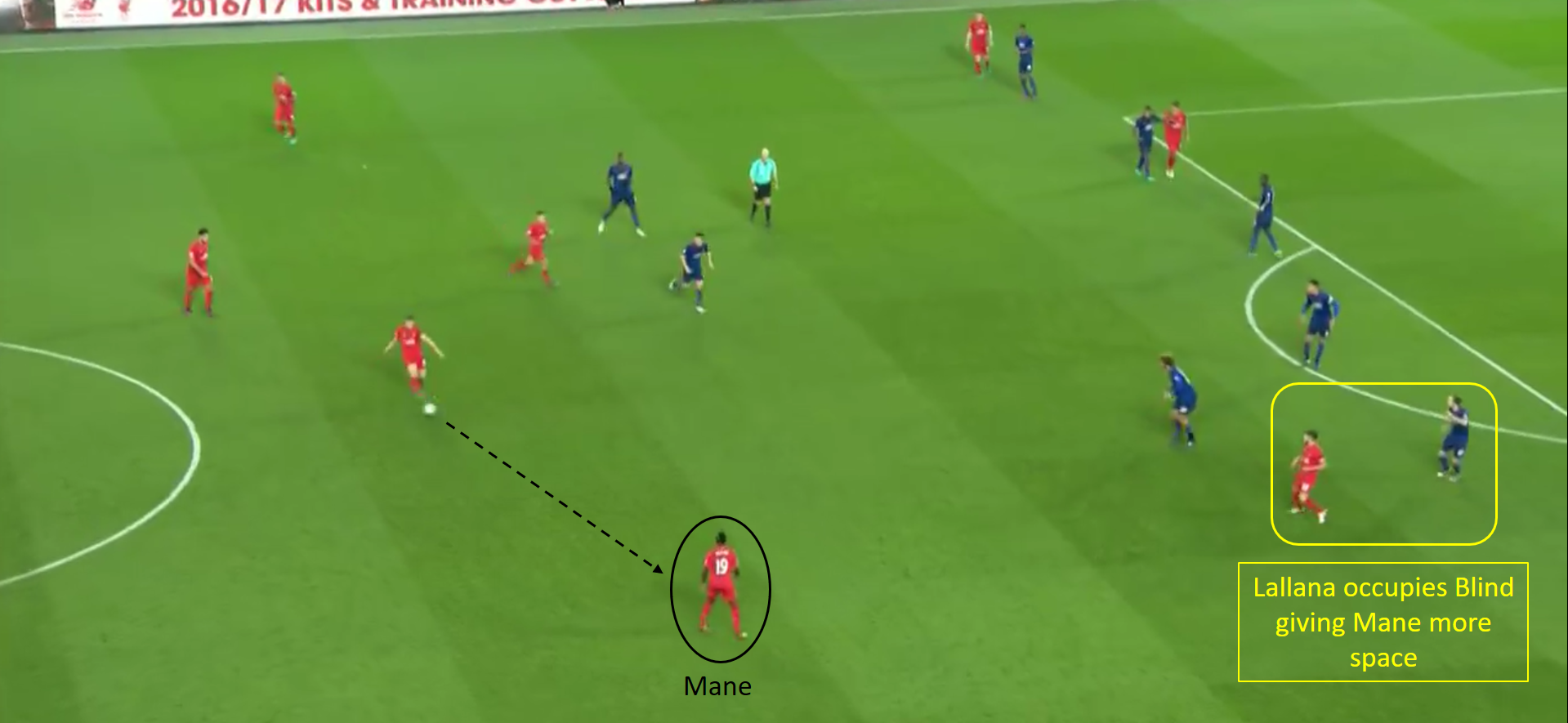 Here he is in a different position but sees a gap between the united back line and runs beyond it to get behind the Manchester United defense.

Unlike in the 1st half Liverpool now were looking to play quicker by exploiting the gaps earlier and put Manchester United under pressure by turning their defense around to face their own goal.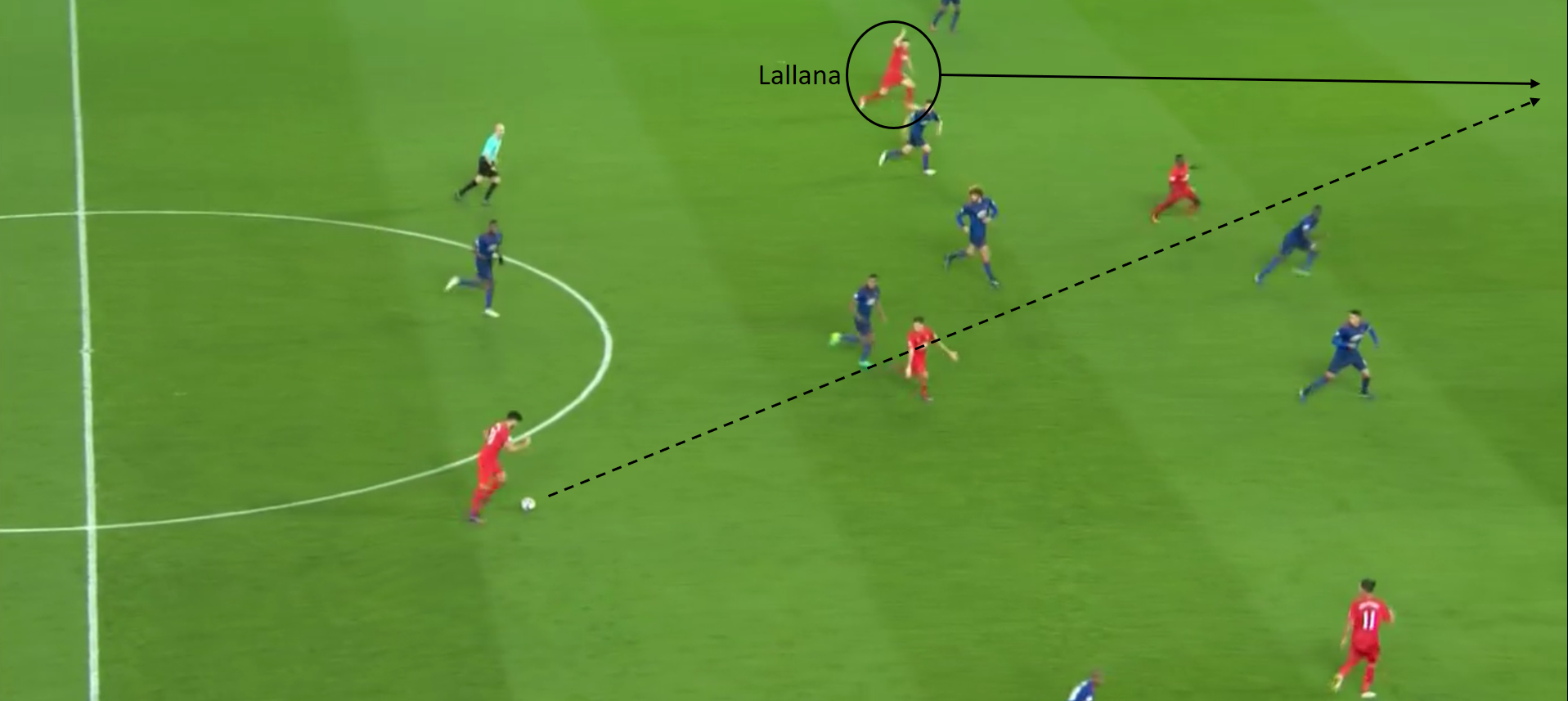 Liverpool Chances/De Gea's Saves
In the 2nd half Liverpool were able to create the best chances of the game. If it wasn't for Manchester United's player of the season the last 3 years in a row David De Gea saving the day again, they would have conceded. This save is from Emre Can's shot from the result of him getting into a position between the defenders earlier.


Because of Lallana's introduction to the game it meant Coutinho could be put into his position of wide left striker. Now due to the free-flowing interchange of Liverpool's movement it's not as if Coutinho is supposed to stay in a wide left position but it should mean he is able to get forward more as players behind him are allowing him to advance further up the field.
Like Coutinho does, he likes to shoot from distance and he has been very successful scoring from the position he is in below. He unleashes a powerful curling shot towards goal that needs a world class save.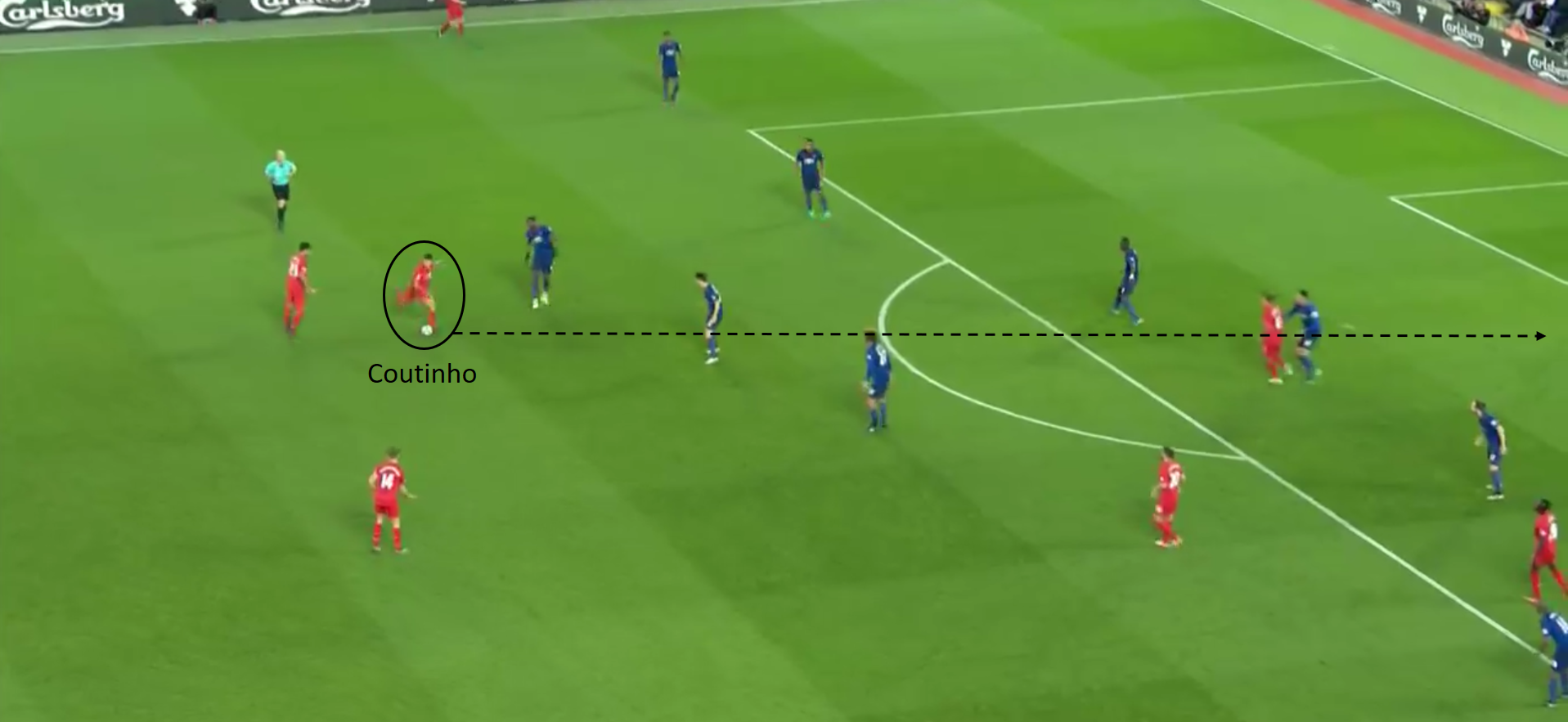 Luckily for Manchester United, that is exactly what they got, with his outstretched hand De Gea was able to tip the shot around the post. It is hard to determine but a lot of goal keepers would have struggled to get to the shot.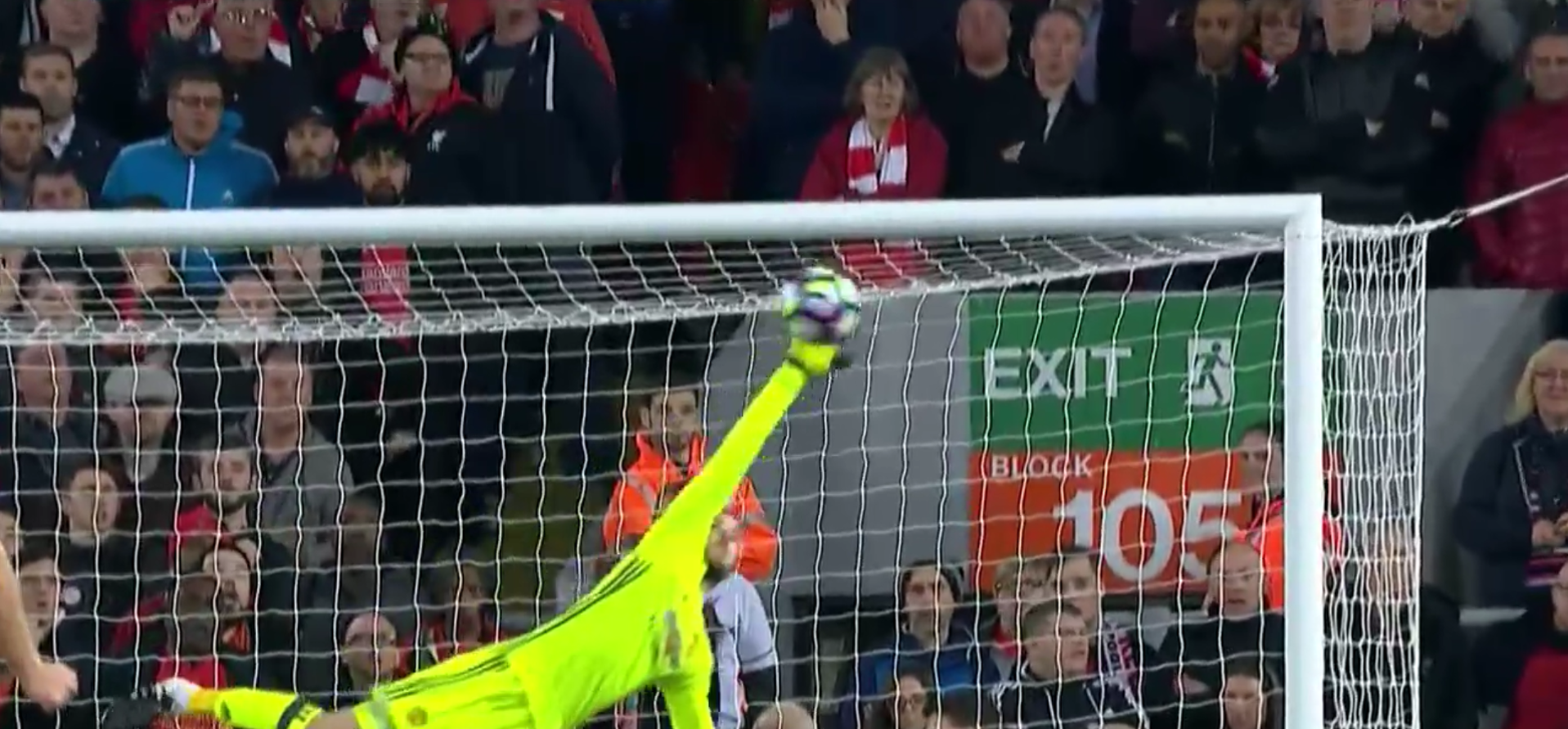 Summary
Even though Liverpool were better in the second half, they were only able to create those two chances on goal. Adam Lallana did start to open up more gaps and if he and Wijnaldum would have played from the start, who knows what could have happened. However, with Mourinho's defensive tactics it was always going to be hard to overcome such stubborn opposition.
In terms of dealing with Liverpool's attacking fluidity I think Mourinho did an excellent job. He stifled the danger players, while keeping a basic principle of defensive organization, keeping everything in front of them Manchester United were able to come away with a good point. If De Gea had not been the savior, twice, it would have been a different story.
Mourinho caught a lot of criticism for his tactics and how he played and some of it is warranted, because as good a job Manchester United did in defending they were lackluster in attacks forward, almost conceding we will take the point. A lot of fans and pundits were expecting Manchester United to test Liverpool but what they saw suggested Mourinho either did not feel he could or was too preoccupied with stopping Liverpool scoring that he didn't try to win the game at all. Now for a team like West Bromwich Albion, with a lower caliber of player that might be more acceptable, but not when you are Manchester United playing your biggest rivals.
Klopp came out after the game and said "I'm not happy with the game. It was a hectic game. There was pressure here, pressure there. I don't think we played as well as we could have. That's our fault, nobody else's." Clearly taking responsibility, upset and frustrated that his team played badly and did not perform to its best, regardless of who was missing.
Whereas Mourinho also spoke of Liverpool saying "how many shots on target did Liverpool have on target today? Two shots on target with 65% possession, you have to be critical of Liverpool. It is their problem, not our problem.
Mourinho was trying to spin the game in a positive manner for his team, like any Manchester United manager would. However, with the tactics in place you can clearly see that having a narrow midfield and a back 6 to stop any penetration is certainly a large factor in only have 3 shots on target. The fact that Manchester United had their lowest possession in a game (35%) since statistics were compiled showed they allowed Liverpool to have the ball as long as it was in front of them.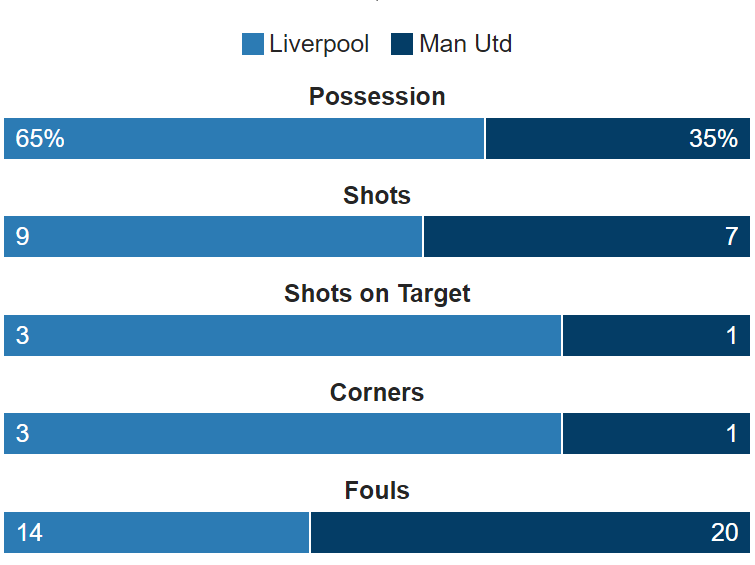 So what do you think?  Do you prefer the 4-3-3 or the 4-2-3-1?  Would you want Klopp or Mourinho coaching your team?  Let us know in the Comments section below.
Written by Sean Pearson author of the book 4-3-3 vs 4-2-3-1 
You can check out more info on the book here including a video preview.